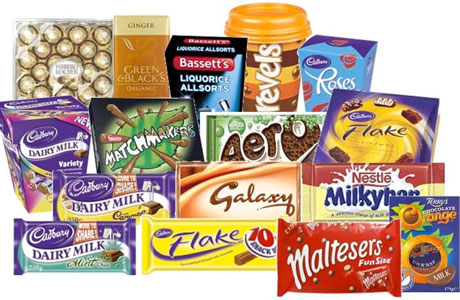 Let's not mess about: British chocolate is, by and large, better than American chocolate. Even our language around chocolate serves to bear this out. We Brits call our chocolate bars chocolate bars (and not candy bars), and this is because they taste of chocolate (and not linoleum).
So, should you ever find yourself faced with the dizzying delights of a British news agent's wares, and wondering where to start, here's a brief consumer's guide to the very best we have to offer.
Note: I appreciate that some of these products are also available in some shops in some parts of the US, but as I can't check all of them, let's just press on as if each one is a strange and alien delight:
Fry's Chocolate
As one of Britain's oldest chocolate-makers, the Fry's brand is associated with the kind of chocolate bars that grown-ups tend to like. There's the Chocolate Cream, the Peppermint Cream and the Orange Cream, three bars of plain (i.e. not milk) chocolate with an icing sugar center. Then there's the Turkish Delight, which is a slab of, well, Turkish delight, encased in milk chocolate. None of these are the kind of chocolate bars you'd expect people to eat every day. They're for special treats, or the visit of an austere aunt.
Terry's Chocolate
Notable for one innovation only, the Terry's Chocolate Orange. This Christmas favorite is a ball of orange-flavored chocolate segments, which you break apart, very pleasingly.
Rowntree's Chocolate
Sadly bought 0ut by Nestlé now, but you won't see our  Smarties on many American shelves thanks to their unfortunate similarity to M&Ms. They are nicer though. Rowntree's also made Aero bars, which are standard chocolate slabs filled with air bubbles.
Speaking of Nestlé, we stock their white chocolate Milky Bar, the adverts for which always featured a blond boy in glasses, pretending to be a cowboy called the Milky Bar Kid. Advertising is not subtle.
And they make Matchmakers, which are long strips of chocolate with flavored sugar crystals inside. Orange and mint being a particular favorite.
Green & Black's Chocolate
These are the bars you eat when you want to be sure you're eating a certain high percentage of cocoa solids, and you're not someone who eats a lot of choc in one sitting. It's the kind of chocolate you'd find near the baking ingredients in the supermarket, rather than in the snacks aisle. It's very nice, but a little up itself, and is therefore perfectly British in outlook.
Cadbury Chocolate
The giant of British chocolate and a firm favorite with children everywhere. There's the Crunchie, a honeycomb slab, coated in chocolate; the Chomp, a stick of chewy caramel, covered in chocolate; the Curly Wurly – same idea, but the caramel has holes in it; or the Fudge, which does the same thing to a finger of fudge. Then you have such delights as the Picnic (biscuit, nougat, caramel, nuts, puffed rice, and raisins coated in chocolate),  or the Time Out, which is two fingers, each of which has some rippled chocolate sandwiched between two wafers, and coated in (you'll never guess) chocolate.
Boost is an interesting bar, with crushed biscuit in the center that's encased in a cocoon layer of caramel, with a layer of chocolate on top of that. It's the Egyptian mummy of chocolate bars. For some reason Cadbury have also put guarana in the biscuit mix too, as if eating all of that chocolate and sugar wasn't enough of an energy supplement.
The Star Bar has has the same caramel and chocolate cocoon as the Boost, only with crushed peanuts in the middle. There is a story that the bar had been discontinued until a visit to the Cadbury factory by a party of schoolchildren, one of whom offered a redesign of the packaging which so impressed Cadbury bosses that they decided to relaunch the bar, to enormous success.
Special mention must also go to the Cadbury Creme Egg, which only exists from December until about two months after Easter, and is an egg-shaped confection, with a yellow and white cream icing filling, and a thick chocolate shell. Oh, and we can't forget the Flake, named after the crumbly nature of the chocolate which is its sole ingredient. We put Flakes into our ice-cream cones, by the way, and this is called a 99. It's a taste sensation.
Other chocolate-only bars include the Wispa (tiny bubbles inside), and the Twirl (essentially two drinking straws made of chocolate), and of course the astonishing Dairy Milk, which is the classic chunky chocolate bar. The American ones are made by Hershey, and therefore do not count.
Similarly, the UK Mars Bars do not contain nuts, being just nougat and caramel, and they're finished off with Cadbury chocolate.
Here are all of the Cadbury bars, laid out on their website.
As for the rest of them, most products made by Dove and Mars are replicated over here, but we do have a few regional differences.
There are Maltesers, which are malt honeycomb balls dipped in chocolate, and the Bounty bar, which is a moist coconut ice center, once again covered in chocolate. I believe your version is called Mounds? That's not a name I'd want associated with anything brown and sticky, but hey, that's just me.
Fraser McAlpine is British. This explains a lot.
Read More
Filed Under: