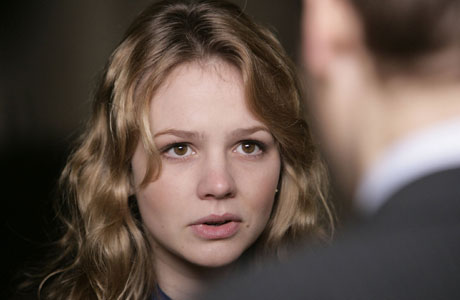 With the Star Trek movie beaming up Noel Clarke (a.k.a. Mickey Smith), we look at some of the biggest celebs who've traveled through the Whoniverse. While the list is far from complete — we've left off the obvious recent Doctor Who regulars like Alex Kingston, John Simm, Bernard Cribbins, and Gavin & Stacey's James Corden — it provides an overview of the star-studded talent who've dazzled us over the series' nearly 50 years. Also: check out our list of the five best Doctor Who guest stars from the modern era, in our humble opinion.
John Cleese – "City of Death" (1979)
Simon Pegg – "The Long Game" (2005)
Timothy Dalton – "The End of Time" (2009)
Anthony Stewart Head – "School Reunion" (2006)
Sir Derek Jacobi – "Utopia" (2007)
Eric Roberts – "Doctor Who" movie (1996)
Andrew Garfield – "Daleks in Manhattan" and "Evolution of the Daleks" (2007)
Carey Mulligan – "Blink" (2007)
Kylie Minogue – "The Voyage of the Damned" (2007)
Sophie Okonedo – "The Beast Below" (2010)
http://www.youtube.com/watch?v=kgsSndEfesA
Lindsay Duncan – "The Waters of Mars" (2009)
Game of Thrones's Harry Lloyd – "Human Nature" and "Family of Blood" (2007)
Pauline Collins – "Tooth and Claw" (2006)
Sir Michael Gambon – "A Christmas Carol" (2010)
Martin Clunes – "Snakedance" (1983)
Downton Abbey's Hugh Bonneville – "The Curse of the Black Spot" (2011)
http://www.youtube.com/watch?v=yvBxtSFalYk
Bill Nighy – "Vincent and the Doctor" (2010)
David Morrissey – "The Next Doctor" (2008)
Julian Glover – "City of Death" (1979)
Marc Warren and Shirley Henderson – "Love and Monsters" (2006)
http://www.youtube.com/watch?v=yGyrku1Ykr8&feature=related
Upstairs Downstairs's Jean Marsh – various episodes from "The Knight of Jaffa" (1965) to "Battlefield" (1989)
http://www.dailymotion.com/video/xkpfcs_doctor-who-jean-marsh_shortfilms
Absolutely Fabulous's June Whitfield – "The End of Time" (2009)
Weakest Link host Anne Robinson – "Bad Wolf" and "The Parting of the Ways" (2005)
Brian Blessed – "The Trial of a Time Lord" (1986)
And as a bonus, a slightly controversial addition – Peter "Moff Tarkin" Cushing as "Dr. Who" in the non-canon '60s films.
Who have we missed? And who is your favorite famous Doctor Who guest star?
Read More
Filed Under: