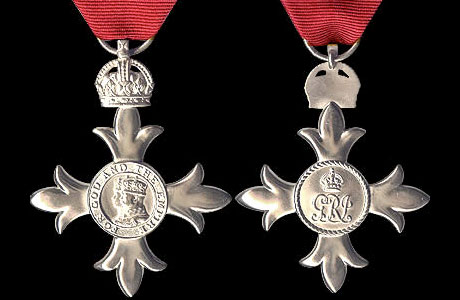 Thanks to the biannual honors list, the British have a unique way to celebrate achievement in all walks of life. Anyone can be nominated, providing there's enough support, and they get to meet the Queen and have a nice day out at Buckingham Palace and take home  a medal, or possibly a Dukedom. It's all very nice.
However, there are people who feel that accepting such an honor is in some way being pinned and mounted by the establishment, like a prized butterfly. Or that taking the award (which it's perfectly possible to turn down) would in some way acknowledge that their best years are behind them.
Naturally, the whole acceptance/refusal process is fairly closely guarded, so here are ten notable Brits who have reportedly decided that a pat on the head from the Queen is not for them:
1: John Cleese has the unique distinction of having turned down both a life peerage (barony) and a CBE, saying he felt the honor was "silly," and to prove it, jokily adding that he "did not wish to spend winters in England."
2: Smash Hits magazine always used to jokingly refer to David Bowie as 'Dame David,' which may have, in some indirect way, lead to his nomination first for a CBE, and then a knighthood. He turned them both down, presumably on the grounds that it was a reinvention too far for his chameleonic career.
3: The painter LS Lowry deserves a special mention on this list. His distinctive paintings of working class Manchester factory workers may sell for millions now, but he never wanted to be seen to rise above his station, declining first the OBE, then the CBE, then a knighthood, then the Companion of Honor (twice). He holds the record for turning down the most nominations.
4: The playwright and author Alan Bennett also turned down a knighthood and a CBE. I guess, once you've turned one down, it must feel like you have to keep saying no, or risk looking flighty.
5: Kenneth Branagh, fresh from Academy Award nominations and acclaimed as the Great British Actor of the moment, turned down the offer of a CBE in 1994. Quite right too. He was just getting started at the time.
6: More recently, Paul Weller turned down the same honour in 2007, although for someone as obsessed with the twin forward engines of youth and modernism (the youth cult, not the art movement), it's not really that much of a surprise than he knocked it back.
7: A slightly more surprising rejection came from the always-agreeable Jim Broadbent, who turned down an OBE in 2002. I can't imagine what it could have done for him that being astonishing in all of those films could not, but you can't deny he's earned it.
8: Meanwhile, back in 1986, Roald Dahl turned down the same honor, despite being one of the best children's authors Britain has ever produced, and a fighter pilot in the war. Another deserving winner, if ever there was one.
9: Dawn French and Jennifer Saunders were both offered OBEs in 2001, and decided against taking them. Maybe Jennifer felt Edina wouldn't approve.
10: John Lydon, who as Johnny Rotten outraged the British establishment with the Sex Pistols song "God Save The Queen," released in the Queen's silver jubilee year, has reportedly turned down the offer of an MBE. Which makes you wonder why anyone thought it would've been a good idea to offer it to him in the first place? Assimilation, perhaps?
Special mention must also go to Keith Richards, who has bitterly complained about the knighthood given to Mick Jagger, as being precisely the kind of thing you don't do when you're in the Rolling Stones. One can only assume he's had his chances and turned them all down too.
Which British person would you give a medal to? Tell us here:
Read More
Filed Under: