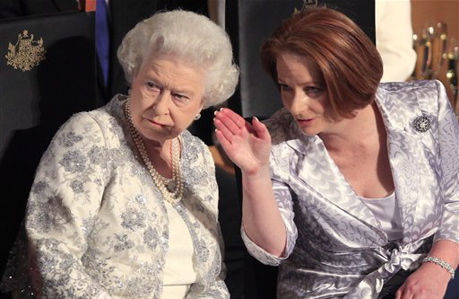 During the Queen's trip Down Under last year, Australians demonstrated their overwhelming support for the monarchy and the royal family.
Still, there are many who don't think it's right that Australians should have to pay for royal gifts – and in this case, somewhat strangely, the controversy is not about gifts that the Queen received but instead about gifts that she gave to Australians.
The Queen and Prince Philip bestowed dozens of gifts, mostly framed photos of themselves, to more than 40 Australian dignitaries, at a cost of roughly £10,000 ($15,600).
The Herald Sun reported that Australian taxpayers paid for the gifts, a report that was confirmed by the office of Prime Minister Julia Gillard, who herself received a framed photo.
Not true, said Buckingham Palace.
"The Royal Household pays for gifts given by The Queen – not Australian taxpayers," said a Palace spokesman.
This was apparently news to the Australian Prime Minister's office, which was operating under a decades-old tradition in which costs were passed "to the realms," or, in other words, to citizens of Commonwealth countries.
"Consistent with longstanding practice the Australian Government will meet the costs of gifts presented by The Queen during her visit to Australia," a spokesman for Gillard said.
That didn't sit very well with some Australians, who took to the Internet to describe the Queen as a "parasite."
"I can't comprehend how Aussie taxpayers should get lumbered with the bill for her giveaways," wrote one commenter on the Herald Sun's site. "A gift is a gift and it should be given away freely, not with an underhanded 'provided by the Australian Taxpayer' sticker."
But late this evening, a new statement was released by Gillard's office stating that the Queen would pay for the gifts, The Telegraph reports.
"The Palace advised," read the statement, "that on this occasion, the Australian Government will not be asked to meet the costs of the gifts presented by the Queen."
And Buckingham Palace reaffirmed its original position.
"The Australians have not been billed for the cost of the gifts," a Palace spokesman said. "The Australian Government kindly paid for the transport and accommodation costs as is normal when the Queen visits Australia, but the Royal Household paid for the gifts which The Queen presented to Australian dignitaries."
The costs of the gifts are dwarfed by the trips total costs for travel, lodging, and other expenses – they're estimated to be somewhere in the neighborhood of £650,000 ($1 million).
Read More
Filed Under: