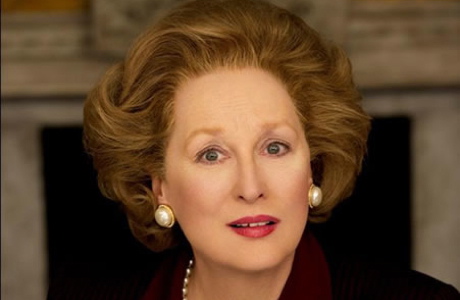 Meryl Streep has been earning raves for her performance as former British Prime Minister Margaret Thatcher in The Iron Lady, which opened in New York and Los Angeles last weekend and arrives on British screens this Friday (Jan. 6).
Her accent, by all accounts, is spot-on.
"Her performance is astonishing and all but flawless; a masterpiece of mimicry," wrote film critic Xan Brooks in an early review in The Guardian.
It's not the first time that Streep has taken a run at sounding English, although this time around she also had to imitate the familiar and carefully polished tones of the Baroness Thatcher. The two-time Oscar winner – who has a total of 16 nominations, with another all but in the bag for Iron Lady – has demonstrated her flair for talking through a stiff upper lip in a couple of earlier films.
In The French Lieutenant's Woman (1981), she played a 19th century Englishwoman opposite Jeremy Irons in a labyrinthian romantic drama based on a popular novel by John Fowles.
She trotted out her poshest English accent in Plenty (1984), the movie version of a David Hare play about a British woman whose post-WWII life never matches the excitement or fulfillment she found while working to aid the resistance in France during the war. (Watch a clip from the movie here.)
Traveling beyond British shores across the sea, Streep adopted an Irish accent for Dancing at Lughnasa (1998), a drama based on Brian Friel's popular play about impoverished sisters who live together in rural Ireland during the Great Depression.
And, probably her most famous accent of all, and certainly the most imitated ("The dingo took my baby!"), came when Streep let her vowels go flat for a Down Under accent in A Cry in the Dark. The 1988 film was a true-life drama about Lindy Chamberlain, an Australian woman accused of murder after her infant daughter was killed by a wild dog during a camping trip to Ayers Rock.
——————————-
What's your favorite role in which Streep unleashes an accent?
——————————-
Read More
Filed Under: