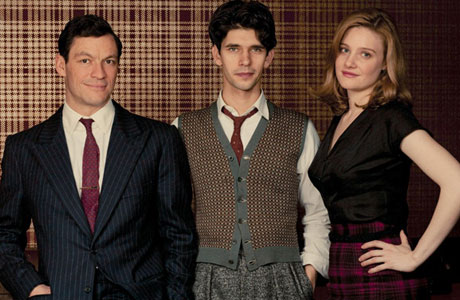 With the BBC America's 1950s-set newsroom drama The Hour basking in the glory of its three Golden Globe nominations, screenwriter Abi Morgan has been giving some details of what might be in the new miniseries.
"We're coming back in 1957 when the space and arms race is at its peak — and looking at the cultural and racial tensions going on in Britain at the time," she says.
The series centers on journalists at a fictitious BBC TV current affairs show launched at the time of the Suez Crisis in 1956.
Morgan thinks the new series is a natural progression. "I hope it's moved on a little bit. We're careering towards the '60s. All the main cast is still there, so it's exciting to write for them again," she says.
The screenwriter thinks one reason why the series has proved popular is because people find something fascinating about near history and the way it repeats itself. The new series is set at the time when the then-British Prime Minister Harold Macmillan was famously telling Britons, after years of post-World War II austerity, that they'd "never had it so good."
As Abi Morgan points out: "There were huge amounts of money being made by a lot of bankers, and that has immediate resonance now."
Morgan has been extremely busy. In addition to The Hour she also delivered the screenplay for The Iron Lady starring Meryl Streep as Margaret Thatcher — and co-wrote the script for Shame in which Michael Fassbender plays a sex addicted New Yorker.
Her Iron Lady screenplay has drawn some criticism — some think it's an unflattering depiction of the former leader as lonely and demented preoccupied with the domesticities of life. While other have complained that the film doesn't dwell in sufficient detail on some of her more controversial policies.
Morgan doesn't want the film to set the historical record. She says: "I think it's one view of Margaret Thatcher. I would hate it to set the record in a way, because I don't think anybody should do that. It's a creative exercise, and it's a creative endeavor, but I hope it looks at what it means to be a powerful leader and the fact that in many ways we'll all die washing up a teacup, and I feel that that's its strongest message."
The new miniseries of The Hour will be aired in BBC America's Dramaville later this year.
Read More
Filed Under: