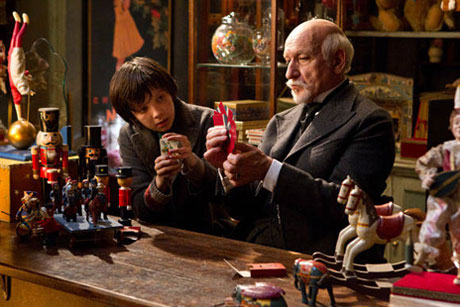 Asa Butterfield, the 14-year-old British actor who's been winning effusive praise for his portrayal of the title character in director Martin Scorsese's epic Hugo, will re-team with Sir Ben Kingsley in the new film Ender's Game which begins shooting next month.
"That's going to be incredible, reuniting with him," says Butterfield pointing out that the cast will also include Harrison Ford, True Grit's Hailee Steinfeld, and Abigail Breslin.
The film is an adaptation of a sci-fi novel — and Asa Butterfield will play a highly intelligent young boy who's seen as humanity's last hope in a battle against aliens.
Butterfield says, "It's about this kid Ender, and he gets invited to this battle school where he's taught to command the humans. This is an incredible story about the trials he faces, both physically and mentally. It's incredible."
It's another big role for a young actor whose career is really flourishing. He concedes it's a struggle to lead a normal life nowadays given his acting commitments.
He says: "It is difficult because I am doing something so different. Barely anyone my age does this, but I do try and keep my acting life and my normal life separate."
He adds: "Whenever I'm at school, I just do whatever any other 14-year-old kid does. I play computer games. I hang out with mates. I've got sort of two different lives, my personal and my professional."
Read More
Filed Under: