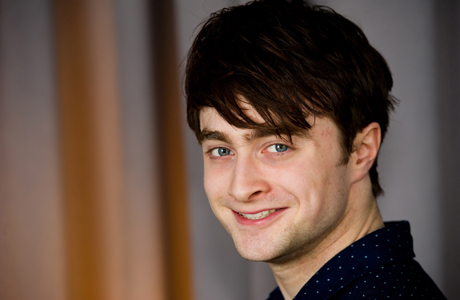 I know we've said this before in the context of the quotes Daniel Radcliffe is happily giving to media publications these days, but this is an open plea to everyone, not just Harry Potter fans: please don't read this story, you'll only end up wishing you hadn't.
So, Daniel has been talking about his new role, in John Krokidas' forthcoming film, Kill Your Darlings. He plays the beat poet Allen Ginsberg, and this will mean he has to strip off again, just like he did in Equus. However, there will be one key difference, in the bodily hair department.
Daniel told Heat magazine: "I've just been having a discussion with the guy who's directing my new project. It might have a bit of nudity and he said: 'Just to let you know, if you're getting naked, no landscaping of any kind. This is the 40s and you're playing a Jew.'"
No I have no idea why this production detail is something Daniel feels the need to share with the world, but the worst of it is, he doesn't stop there:
"I was like, 'Pretty much there anyway, mate! Not a huge amount of maintenance going on'. I mean, there's a little bit, obviously, for courtesy,"
*points wand at own mind* EXPELLIARMUS!
DAMMIT!
Read More
Filed Under: