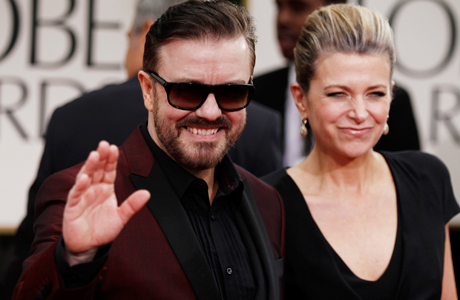 If you missed the first ten minutes of the Golden Globes, you're probably asking, why all the fuss over Ricky Gervais? Or more likely, you're probably asking where was Ricky Gervais?
It seemed as though NBC and the Hollywood Foreign Press Association were really happy to have the so-called "controversy" over Gervais – for ratings purposes – but didn't really want Gervais himself.
Gervais' absence for much of the evening did not go unnoticed by viewers.
"He wasn't on stage long enough for me to critique his hosting abilities!" tweeted Nerderific to Anglophenia.
"It didn't help that he was barely on," dreamingstar213 concurred.  "Too bad because sometimes Hollywood needs to be made fun of to their faces."
Admittedly, Gervais was in a bit of a bind. The perception was that his performance last year had been insulting or offensive – a perception that even he seems to have nursed along, even if he didn't agree. In truth, his shtick last January really wasn't any edgier than that of any Oscar host – just perhaps more finely crafted.
But when he accepted the Globe hosting gig again this year – after saying that he wouldn't do it again – he put himself in a largely untenable position, more or less promising that he would be outrageous.
Instead, he was largely absent, probably because his job – raising the profile of the Golden Globes – had been achieved before the broadcast even started.
"Tonight you get Britain's biggest comedian," he told the audience, "hosting the world's second-biggest awards show." And the runner-up status of the Golden Globes would appear to be the source of all the tension. ("Just like the Oscars," Gervais joked, "but without the esteem.")
Until recently, the Globes were virtually unnoticed by most people outside the industry. Gervais has helped to change that, but for both Gervais and the awards presenters, it's something of a Faustian bargain. Hosts should be a draw but shouldn't threaten to overshadow the awards themselves. There seemed to be little threat of that this evening, however, because for large sections of the ceremony, Gervais was nowhere to be seen.
And then, at one point, when he was seen, he wasn't heard. When Gervais introduced Antonio Banderas and Salma Hayek, he noted that they were both good-looking and talented, "and probably very interesting." But when he reportedly used the f-word to say that he "couldn't understand a f—ing word they said" he was bleeped out so we, the audience, couldn't hear a f—ing word Gervais said.
***
Britain fared pretty well last night.
Idris Elba, in BBC America's own Luther, won for best actor in a TV movie or miniseries. In his acceptance speech, he said his daughter was holding a Golden Globe party. Earlier, the actor had tweeted a photo of a Golden Globe that she had made herself when he didn't win an award last year.
"I'm bringing her home a real one," he tweeted – and made good on the pledge.
Kate Winslet won a best actress in a TV movie or miniseries for her performance in the title role of HBO's Mildred Pierce.
"I want to thank HBO for being absent when we needed it to be absent and being present when we needed a little more shooting time," Winslet said.
PBS's Downton Abbey won the award for best for best TV miniseries or movie.
"How fabulous this is," said the show's producer Julian Fellowes. "The whole Downton Abbey adventure has been an extraordinary one, like spotting a promising child and waking up to find they won the Olympics."
Whether British or American, however, allusions to the male sexual organ were perhaps the biggest winners of the evening. We lost count, but the double entendres were rife through the ceremony, beginning with Gervais' opening monologue, which involved wordplay comparing the size of his vocabulary to the size of his penis. When Seth Rogen presented an award with Kate Beckinsale, he dispensed with double entendres entirely and announced, "I'm currently trying to conceal a massive erection." Even George Clooney in his acceptance speech for his best actor award for The Descendants thanked Michael Fassbender for "taking over the frontal nudity responsibility that I had."
What did you think of this year's Golden Globes and Ricky Gervais as host? Tell us below.
Read More
Filed Under: