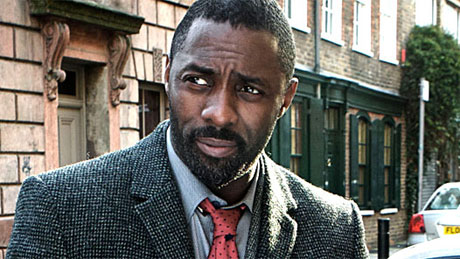 UPDATE: Congratulations to Idris Elba on his Golden Globe win for Luther! Last year, the actor garnered a well-deserved Golden Globe nomination — and an Emmy nomination — for his role as detective John Luther in the first miniseries of the crime drama Luther. Elba returned for the follow-up miniseries this past year and has received his second consecutive Globe nod and first win. It's a fantastic achievement for an actor who has created one of the most complicated TV cop creations since Helen Mirren in Prime Suspect.
Here's a backstage interview at the Globes. Elba addresses rumors that he would be replacing Daniel Craig as 007.
Elba's character of John Luther, an obsessive genius with a by-any-means-necessary work ethic and an insight into the most bizarre criminal minds, spent the first miniseries solving crimes but also running from a murder rap of his own. All the while, he formed a mesmerizing bond with a murder suspect, the brilliant, psychopathic former child prodigy Alice Morgan (played as a sexy, scary femme fatale by Ruth Wilson). Here's a recap of the first miniseries:
In the second miniseries, he's been cleared of the murder charges, but he remains ever-so-haunted. (In the very first scene of the premiere episode, we see him playing a solitary game of Russian Roulette.)
The expressive-eyed Elba plays Luther as a man who is world-weary to the point of exhaustion, like someone struggling through an eternal, excruciating migraine. It's tactile acting. (He makes rubbing his brow compelling.) Yet Elba brings the swagger and smoldering charisma that distinguished his performance as the Baltimore drug kingpin Stringer Bell on The Wire.
On that gritty, critically acclaimed HBO series, the London-born actor spoke with a flawless American accent, just like his former Wire co-star and fellow British Golden Globe nominee this year, Dominic West. (Warning: language in the following clip is very NSFW.)
http://www.youtube.com/watch?v=-lBG7FR-pe8
That series, combined with his acclaim for Luther, has made Elba one of Hollywood's most sought-after actors. (He appeared in last year's Thor and will co-star opposite Michael Fassbender in the upcoming Ridley Scott feature Prometheus.) But Luther sets the bar high for him. (Below he describes his glee at receiving the first script for the series.) Now the role has brought him his first major industry award. Congratulations, Idris!
Offer your congrats to Idris Elba on his Golden Globe win below.
Read More
Filed Under: