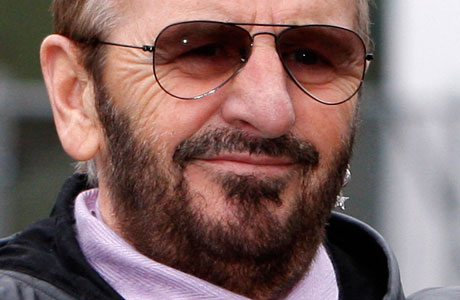 It is all go in Beatleworld at the moment, with Sir Paul McCartney's new album out next week and Ringo Starr's latest, the imaginatively-titled "Ringo 2012" out today. But while we're all sure what Sir Paul's most notable achievements are as a songwriter, Ringo's contributions remain less celebrated.
So here's a handy Top 5, just to redress the balance:
1: "Octopus's Garden"
What? It's a brilliant song. And it's beautifully placed next to John Lennon's screaming ode to Yoko Ono "I Want You (She's So Heavy)" on the last-recorded Beatles album "Abbey Road." OK, so it's possibly not the Sistine Chapel or the Mona Lisa, but it's got a beautiful heart, doesn't skimp on the charm, and serves to provide ample evidence as to why Ringo was the most popular Beatle while the group was still together.
2: "Early 1970"
All the Beatles wrote about the breakup of the band in different ways. George walked out of the sessions for "Let It Be", and went home to write "Wah Wah," about the frustration headaches he'd develop while trying to please Paul. Paul had written a couple of barbed lines about people "preaching practises" on his "Ram" album, tired of being told off by John. John took this (and a song called "Dear Boy," aimed at Linda McCartney's ex-husband) to heart, and came back with the bitter, vengeful "How Do You Sleep?" Meanwhile, Ringo had written this lovely song, containing a verse for each member of the band – Paul, then John, then George, then himself – and expressed the fond hope that they would all get to play together again soon. It was the b-side of "It Don't Come Easy," and as public gestures of affection go, it's magnificent.
3: "It Don't Come Easy"
Owing more than a little of its introduction to the song "Tin Soldier" by the Small Faces, this song was co-written with George Harrison, but remains a resolutely Ringo proposition. It was originally title "You Gotta Pay Your Dues," but re-titled once it became clear it was a potential single. Ringo famously fluffed the words during the Concert For Bangla Desh, which only serves to prove how right the new title was all along.
4: "Photograph"
Another co-write between Ringo and George, and just about the most sumptuous melody his unique voice has ever been wrapped around. This applies the "All Things Must Pass" production technique George poineered with Phil Spector to Ringo's solo work, and remains a real peak of achievement from any of the four former Beatles.  Ringo performed this at the 2002 tribute concert for George, and has since said he can no longer sing the song without thinking tearfully of his Beatle buddy, especially given the lyrics.
5: "Back Off Boogaloo"
Not, as is sometimes assumed, a message song to a lawsuit-happy Paul McCartney (who, for the purposes of this theory, and this theory alone, Ringo had supposedly taken to calling Boogaloo), this song's provenance is still fairly starry, however. Ringo had had dinner with his friend Marc Bolan (of T.Rex fame), and noticed how often Marc used the word boogaloo. Later on, as he dozed off, Ringo found the refrain "back off boogaloo" going round and around in his head. So he leapt up to grab a cassette recorder, only to discover it had no batteries, "so, I stole batteries from the kids toys and I got the song down."
And that, gentle reader, is how genius happens.  Peace and love!
Read More
Filed Under: