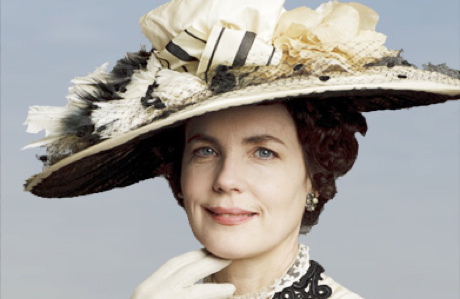 Downton Abbey, the hit British series that begins its second season on PBS this Sunday (Jan. 9), has positively pushed the reset button on the career of Elizabeth McGovern.
The American actress, who has been wed since 1992 to English director Simon Curtis (My Week with Marilyn) and is raising two adolescent daughters with him in London, plays Cora Crawley, the Countess of Grantham, in the soapy period drama. She was nominated for an Emmy as Best Actress in a miniseries for her portrayal (Downton won the Emmy for best miniseries).
Her American-born character, along with her husband, Robert (Hugh Bonneville), is the series' calm center, an island of sanity as everyone around them misbehaves. In the show's first season, we learned that the Earl of Grantham had wed Cora for love but also for her fortune. As with so many actual late 19th century American heiresses who married into the British aristocracy, it was thanks to her greenbacks that the imposing Downton Abbey estate was able to remain in the family's titled hands.
McGovern brought grace and wit to the role and reminded fans all over again what a lovely actress she can be. Now 50, she first charmed moviegoers three decades ago with her debut role in Ordinary People (1980), in which she played the sweet-natured, supportive girlfriend of a troubled adolescent (Timothy Hutton).
She followed up with a succession of impressive ingénue roles, often in period films, including Ragtime (1981), Once Upon a Time in America (1984), and Racing with the Moon (1984). (It was while making the last film that she fell in love with her co-star, Sean Penn, to whom she was briefly engaged.)
A respectable career followed, but she never emerged as a star of the first rank or landed a breakout role. After marrying Curtis, switching shores and becoming a mother, she continued to work on both sides of the Atlantic, making films (The Wings of the Dove and The House of Mirth) and TV series (The Brotherhood of Poland, New Hampshire in the U.S. and Freezing, co-starring Bonneville and Tom Hollander, in the UK). She also began performing around London and recording as a singer-songwriter with a band billed as Sadie and the Hotheads.
In an interview last year in the New York Times, McGovern said that when she first heard about the character of Cora in Downton Abbey, she felt, as a Yank in England, as if "I'd already been rehearsing the part for 18 years." She ardently pursued the role, later learning that it had earlier been offered to two American actresses based in the U.S.
"I did find it annoying that they were in America, and I was just sitting right here," she said.
The show has been a huge hit on both sides of the Atlantic, and McGovern has found herself once more in demand. She is again the subject of interviews and recently finished shooting a UK comic drama, Cheerful Weather for the Wedding, co-starring Felicity Jones and MacKenzie Crook.
As for what lies ahead for Cora in Downton Abbey, McGovern is keeping mum. But no worries: a third season for the show has already been announced.
——————–
Is Downton Abbey's Cora your favorite role that Elizabeth McGovern has played?
——————–
Read More
Filed Under: