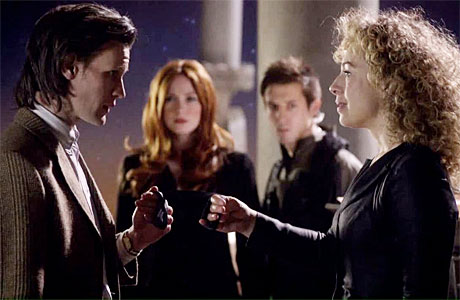 Let's begin with something lovely. Say hello to singer-songwriter Ally Rhodes, who has written a beautiful song titled "River Song," which is actually about River Song (as opposed to being a song about a river).
She writes that the song is about "the triumph of love over predetermined destiny." The lyrics contain lines like "You and I breathe constellations/And twist them in our lungs to stay alive/You've lain in silence on the ground/But from the dirt and tears, you learned to rise."
We think it combines the mysticism of Stevie Nicks with the voice of Christine McVie. Your experience may vary:
Naturally, a quick-working fan has already set Rhodes's song to clips from the show, and this is also something to be applauded:
Here's what else is going on this week:
• While we're waiting for the next series of Doctor Who to get started, who wants to play a game? Doctor Who: The Eternity Clock is set to be released on PS3 and PS Vita in March, with a PC version coming shortly after, and as you can see from this trailer, it pits the Doctor and River Song against some of his most despicable foes.
• A few weeks back, we pointed to some clips from the David Tennant-narrated Earthflight, the BBC's latest look at life in the wild. Well, here's more of Tennant's musical Scottish burr at work, as brightly colored macaws soar over the Amazonian jungle:
• In another treat from the BBC Classic Doctor Who YouTube channel, Clive Doig explains what it meant to be "a vision mixer" in the early days of the series.
• What does Seventh Doctor Sylvester McCoy want for the 50th anniversary of Doctor Who? Here he is interviewed alongside Sophie Aldred (Ace), who says that Russell T Davies had plans for her to appear on The Sarah Jane Adventures.
• YouTube user SaphireRain42 has re-made the Doctor Who instrumental piece "The Mad Man with a Box" from Season 5 using "70 tracks, 65 of them violins." You know, the word "EPIC" is so overused that it's now nearly meaningless, but, this time, the term has rarely been so fitting.
• And while we're on musical matters, here's that Radiophon-A-Tron again. It's the ancient flash game made by the classic Doctor Who website in the early 2000s, which features all the sounds from the old theme tunes.
• This week's companions are action man Steven Taylor and bullish teen Vicki (she appears to have had no surname) who traveled with the First Doctor, and were the first replacements for the classic early traveling team of the Doctor, Susan, Ian and Barbara. Read all about them.
• Fans of classic Who will probably be very familiar with the story of Shada, a Douglas Adams-script for the Fourth Doctor which never finished filming thanks to a strike among BBC technicians. Some of the footage ended up being used in The Five Doctors, but the script languished in the vaults for years until it was resurrected for a series of special animated webcasts (which are here, narrated by Paul McGann and Lalla Ward). And now it's been novelized too. Is novelized a verb? Let's say it is for now. We can argue about it later.
Read More
Filed Under: