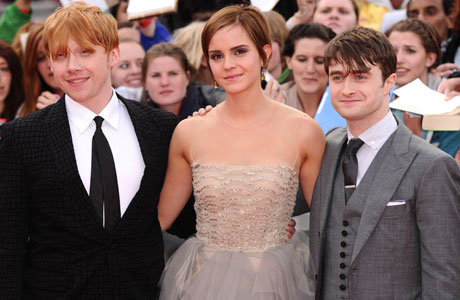 Anglophenians are many things, but we're not gleeful bubble-poppers who wish to strip fantasy back to the bare bones of reality, so if the Harry Potter fan in your life, whatever age they may be, is of a sensitive disposition, it would be wise to direct them away from the following revelation with some kind of elaborate distraction. Why not try a sock puppet show, or pointing at a 'squirrel' you've just spotted out of the window? Do whatever you can, because this could blow their freaking world apart.
It seems, according to a recent interview that he gave to the Sunday Mirror, that Daniel Radcliffe and Rupert Grint are actually NOT close friends.
Let's just pause a while to allow this emotixplosion to do its work, and then we can gather the pieces in a second.
Ready? OK.
So here's what Daniel had to say on the subject. His thoughts may appear a little callous at first, but it's possibly just the hangover from seven years of people asking how well he gets on with the people who play his best friends.
He said: "There's this idea that Emma, Rupert and myself are the best of friends who always hang out together.
"I'm just going to put out there, Emma and I text all the time but Rupert and I never text each other, we never see each other.
"If I see him every six months or so, it's a friendly 'hello, how's things with you' but that's about it."
I know, it's always sad when the magic goes out of a relationship.
Read More
Filed Under: