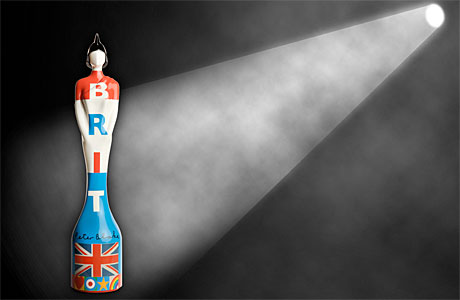 Remember the other month we showed you the video for "Lego House" by Ed Sheeran, which featured Rupert Grint pretending to be Ed's biggest fan and stalker, because they're both redheads and all that? Well it seems that this scenario won't be too far from the truth, if Ed's showing in this year's Brit Awards nominations list is anything to go by.
He's up for four awards: British Breakthrough Act, Album of the Year, British Male and British Single, for "The A Team"
Meanwhile, Jessie J has managed the incredible feat of also being nominated for British Breakthrough, despite having won the Critics' Choice award last year. A nomination which smacks of a self-fulfilling prophecy, especially as she's also nominated for British Female. Maybe they should change it to British Pushthrough?
Her nomination for British Single ("Price Tag") is probably fair enough, however.
And Adele's still got plenty to smile about, given that she's up for British Female (against Kate Bush and Laura Marling and Florence, as well as Jessie), British Single ("Someone Like You") and Album of the Year ("21").
And the British Group award is going to be impossible to predict, given that Coldplay, Elbow, Arctic Monkeys and Kasabian are all nominated. My money's on Chase and Status just because they're the underdogs.
But the big ticket item for the true British music buff is surely Blur's Outstanding Contribution to British Music award. Which means they'll be playing some of their greatest hits at the end of the ceremony. And by the look of some of the nominations, that might be just the pick-me-up we all need.
Read More
Filed Under: