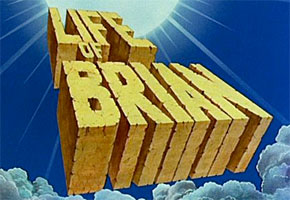 The Monty Python team's 1979 film Life Of Brian has long been considered one of the funniest films ever made. To the extent that when Channel 4 polled their viewers on the best comedy film of all time, only a couple of years ago, it won by miles.
But because most of the film can be read as a kind of allegory about how organised religions form, the film has also been dogged with controversy. There were protests and demonstrations surrounding its release, all over the world. Ireland banned it entirely, for eight years.
This left the Pythons themselves having to justify why they'd made the film, often in surprisingly bad-tempered TV debates such as this one:
http://www.youtube.com/watch?v=TqAHHhr7vmU
And now BBC Four has commissioned a 90-minute comedy drama about all of that behind-the-scenes stuff.
It'll be called Holy Flying Circus, and has been written by Tony Roche, who also writes for The Thick Of It. The comedy actor Darren Boyd will be playing John Cleese, with Charles Edwards taking on Michael Palin.
As for the rest of the Pythons, Steve Punt will be pulling his best cheeky geezer faces as Eric Idle, Rufus Jones is Terry Jones, Tom Fisher is Graham Chapman and Phil Nichol plays Terry Gilliam.
In a press release for Holy Flying Circus, BBC Four controller Richard Klein said: "This is a smart and witty take on both the nature of censorship and the world of Monty Python.
"Tony Roche's script is both bold and entertaining, a wonderfully warm homage to one of the most original of British comedy teams."
Or, as Malcolm Muggerage would have it, a bunch of tenth-rate undergraduates making a little squalid number.
Do you think Life of Brian is the funniest film ever made? Tell us here.
Read More