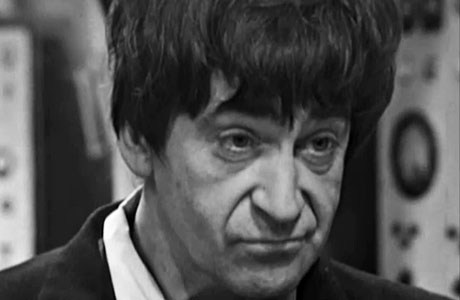 It's one of the more shaming aspects of the BBC's past, that they could see no value in hanging on to their own archive of astonishing programs during the 1960s, particularly as transmissions changed from black and white to color. Key sporting events were preserved, as well as a few examples of each show, just to serve as a tantalising example of what once was, but a full archive was considered to be impractical to maintain and besides, who would want to watch it?
Yes yes, I know.
Among the lost gems are most of the sketch-comedy Peter Cook and Dudley Moore did together, an enormous archive of performance footage from Top of the Pops, including all performances by the Beatles, and perhaps worst of all, given the show's recent revival, hundreds of episodes of Doctor Who. 108, to be precise. Classic stories from the First and Second Doctor, which haven't been seen since they were first broadcast.
Of course, there were copies made for foreign transmission, and some of the episodes which were marked for deletion managed to escape in the hands of outraged fans, but it's always a cause for excitement when a lost episode is found. And this weekend it was announced that TWO complete episodes had turned up: Air Lock, which is part three of a story called Galaxy 4, starring William Hartnell, and part two of a Patrick Troughton story – his earliest to have been recovered – called The Underwater Menace.
Both episodes were screened yesterday, as a surprise, as part of the British Film Institute's event Missing Believed Wiped.
Here's a clip:
http://www.youtube.com/watch?v=glCXrbORBKY
Ralph Montagu, Radio Times's head of heritage, explained how he came to find them: "A few months ago I spoke to Terry Burnett, who used to be an engineer at TVS [ITV station based in Southampton]. Somehow Doctor Who was mentioned in passing, and Terry said, 'Oh, actually I think I've got an old episode.'
"I thought it was bound to be something we've got already. I tried not to get too excited, but he came back the next day and brought this spool with him. It had no label, so I had a look at the film leader and it said Air Lock. I thought, 'What's that?' I checked online and saw that Air Lock was an episode of Galaxy 4 – a missing Hartnell serial. So then I got very excited."
And then, only a couple of weeks later, Terry came back: "And he said, 'Guess what I've got.' It was another episode of Doctor Who! Again not labelled on the can, but it turned out to be The Underwater Menace part two."
It turns out Terry had been approached at a school fête by a mutual friend who had some old cannisters to sell, among which were the two episodes, sent to the Australian Broadcasting Corporation, then returned to the BBC and junked.
The episodes themselves are in need of some restoration work. Apart from general dirt there are a few persistent scratches, and the films are a little shaky due to overuse, and in the case of Air Lock, there's half a minute of lost action. Nothing that can't be fixed, however.
The most astonishing coincidence occured when restorers realised they'd also lost a section where the Doctor's companion Polly is injected with a syringe, which was cut out by Australia censors at the time. Thankfully, that exact section was recovered in 1996, elsewhere, and can hopefully just slot back in. Both episodes are being earmarked for future DVD release.
For a full description of each episode, go to the Radio  Times website.
Read More
Filed Under: