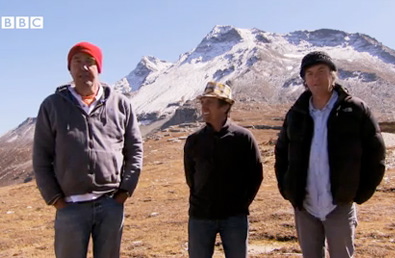 Didn't get your Christmas card from the guys? It probably got lost in the mail. But Jeremy, James and Richard have this holiday greeting for you:
They also offered this holiday message, originally filmed high atop a mountain in India.
• You'll surely want to see Top Gear UK's selection, "Some of our favorite car fails from 2011." Here are some samples of the kooky richness:
Click here to see all the rest.
• There's lots of Top Gear coming up for your viewing pleasure. There's no need to leave your house at all on Dec. 31 – there's a Top Gear Top 40 Marathon, beginning at 6a/5c and taking you right until the very end of the year.
But the Top Gear Marathon doesn't end there.
Beginning at midnight, while other chumps are watching some dumb ball dropping, you can continue to watch Top Gear Top 40.
Then, on Monday, Jan. 2, you'll be able to kick off the New Year properly with the premiere of Season Three, with the first two episodes beginning at 8p/7c – preceded by another full day of Top Gear encores beginning at 8a/7c Monday morning.
• Top Gear fans got their first look at Richard Hammond's new BBC AMERICA series, Richard Hammond's Crash Course, in a new spot running on the channel. The new original series premieres in 2012 on BBC AMERICA.
• The Top Gear UK site has posted a photo gallery of the boys' trip to India. Here are a few for your viewing pleasure:
Click here to take a look at the entire photo gallery.
• In test driving a Lamborghini Aventador, Richard Hammond discovered that its V-12 engine with 691hp certainly has power. Especially when it's in "track mode," where Richard says it's  "absolutely brutal, it kicks you in the back of the head." But even the wizened, grown-up Richard has a tinge of disappointment because he thinks the car feels a bit too safe: "It's a proper car rather than a machine that wants, most of all, to kill you," he says, "and that makes me a bit sad."
• Richard also says that Rolls-Royce has been taking its new electric Phantom concept car, unveiled last March, on a tour to introduce it to customers, media and celebrities. In his column in the Mirror, he says that the car company will reveal the "results of this fact-finding mission next year."
"I can't see the point myself," writes Richard. "One of the nice things about electric cars is their virtually silent running, which you get in a Roller anyway."
And that's not all.
"I wouldn't want a Phantom with a limited range, either," he adds. "Just imagine how nervous the poor chauffeur would be."
Read More
Filed Under: