• Richard Hammond says he's had his mid-life crisis and it's been terrific for him. The Mirror, which ran a wide-ranging interview with Hammond this week, says it's more of a "mid-life crisis in reverse."
"I am a man of a certain age and we are all entitled to a mid-life crisis, but I'm over it now," he told the paper. "Forty is brilliant and I love it. I'm happier now than when I was 20."
Hammond said he's started exercising – jogging five times a week – and mostly given up alcohol, and he feels terrific.
"It's astonishing how much fitter I got, not drinking and watching what you eat. I really enjoyed it. It is not for vanity's sake. It's about self-confidence and being able to bounce out of bed."
But he's making other changes in his life as well.
"I'm selling cars left, right and centre," he said. "I just feel silly in some of them."
Hammond also talked about the severe injuries he received from a 2006 crash in a 288 mph jet car.
"He still questions how that accident has affected him," the newspaper writes.
"I lost a year," he said, and even today he doesn't remember many of the things he during the time.
"I only discovered recently that Jeremy Clarkson sent text messages to Mindy [Hammond's wife] every day I was in hospital," he said. "For five weeks he sent a funny message to Mindy and it really lifted her. He'd hate me to tell you that 'cos it makes him look soppy but it meant a lot to Mindy. He'd die of shame."
• You could drool with envy – after all, My First Car contest winner Dara Roberts not only won a free trip to London but she got to see Top Gear Live, as well as visiting some of Britain's most fascinating historical sites. But after reading Top Gear's Q&A interview with Dara, you're sure to be won over by the Maine native's description of her trip last month with her father.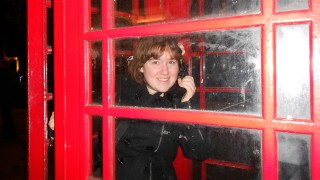 Top Gear Live, she said, was "brilliant" and the exhibit hall was "very much a car geek's heaven."
Her favorite non-Top Gear part of the trip was the National Maritime Museum in Greenwich: "I think I could have walked around for three days and never gotten bored."
What does Dara especially love about the show? "The producers could make it with just cars and silliness and people will watch it, but they take the time and effort to make a genuinely beautiful bit of cinematography. Everything is well put together, the shots are thoroughly thought out."
Dara won the My First Car contest back in March with her description of her Ford Contour, a car that she said "just smelled of freedom and the endless idea of the open road" – until she crashed it in icy conditions in 2005.
Congrats, again, Dara, and welcome back home!
• Jeremy Clarkson and his wife Francine attended this week's Sun Military Awards in London. The Millies, as they are called, honor British soldiers courage and heroism in battle.
• Get ready for a Top Gear marathon tonight (Thu. Dec. 22) beginning at 7p/6c, with two encore episodes. Then at 9p/8c, a Top Gear "Best of" show, followed by two episodes of Top Gear Top 40 beginning at 10p/9c.
And if you're not already sick of the holiday season, you will be. The guys have a remedy for that – two more Top Gear Top 40 marathons.  The first begins on Monday, Dec. 26, commonly known as "the day after Christmas" or, in the UK, as Boxing Day, at 8am/7c. The second begins even earlier, at 6am/5c on Saturday Dec. 31.
• The Top Gear UK folks have released the trailer for the India special, which will air here in the U.S. in the new year. Take a look:
• If you want to get a really detailed look at the production of Top Gear, you'll want to read this piece, almost an extended diary, by BBC America producer Christopher Fetner, who was sent over to Britain to work on the Top Gear Top 40 specials.
"The Production office in Dunsfold is the kind of place that makes you instantly try to remember if your tetanus shot is current," Fetner writes, " However, if you're a Top Gear fan, it's the coolest spot on Earth." He also says that while he was skittish about driving on actual London streets, he knew he had to do a lap on the Top Gear track.
Read More
Filed Under: