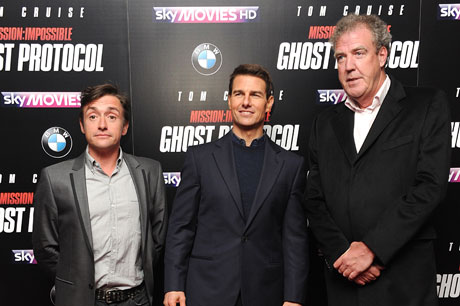 Top Gear was well-represented at the London premiere of Mission: Impossible – Ghost Protocol. Richard Hammond and Jeremy Clarkson were on hand to spend some time with the movie's star, Tom Cruise, on Tuesday (December 13). Cars, of course, play a pretty important role in the movie, specifically two BMWs, an X3 and a 6 series convertible.
The boys were pretty chummy with Cruise at the British Film Institute's Imax theater the other night – but that's probably to be expected, since they have a well-known respect for Cruise's abilities behind the wheel. "Top Gear would like to state for the record," begins an item on posted this week on the UK website, "that we are entirely behind Tom Cruise's magnificent powers of driving."
Here are a few more choice pics from the London premiere: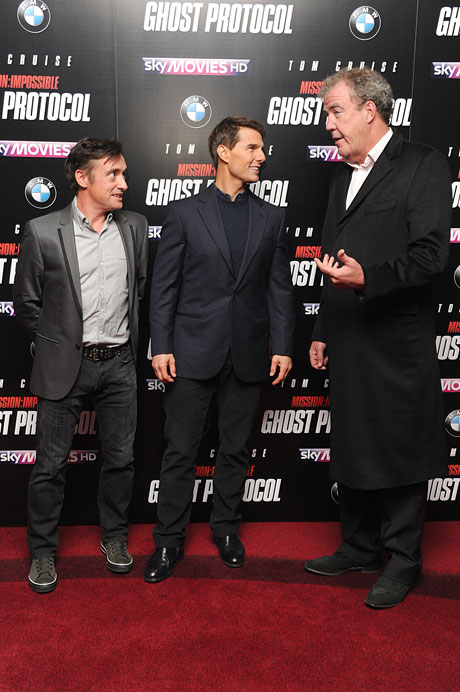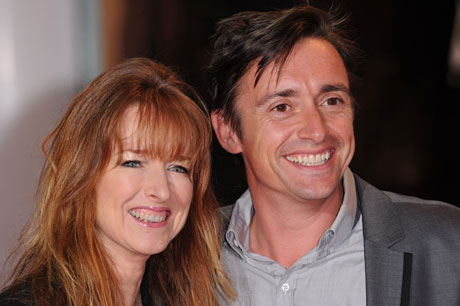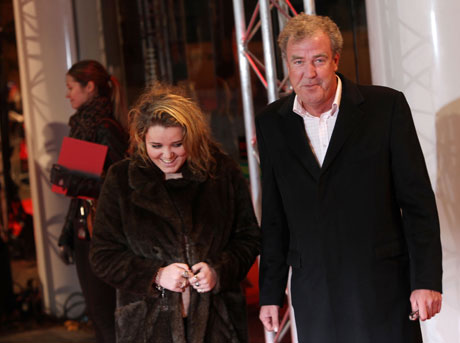 And here's the M:I – GP trailer:
• Cruise became friends with Hammond and Clarkson after he appeared as a guest in a Top Gear Star in a Reasonably Price Car segment when he was promoting his own movie Knight and Day last year. He was on with his co-star Cameron Diaz:
• Don't let the sentimentality of December dampen your desire to see things marvelously destroyed. On James May's UK series James May's Man Lab, he takes on one of the iconic symbols of the holiday season: a Christmas tree. To be more specific, he blows one to smithereens with explosives. We especially like the shot at the end from the trunk's POV as the tree comes tumbling down in a plume of smoke.
• Oh, and watch as James's longtime mate, Mr. Oz Clarke, boards a plane and attempts — in vain, it seems — to close the passenger door.
• Andy Wilman has been a most polished host of BBC America's Top Gear Top 40, which concludes with the top 10 moments on Monday, December 19 at 8/7c. But as with any recorded endeavor, there are always some gems left on the cutting room floor. Check out some of Wilman's funniest bloopers:
• Word to our app aficionados: the new Top Gear: Stunt School iPad/iPhone apps are FREE for download through tomorrow (Friday, December 16). Click here to get yours!
Read More
Filed Under: