Have you heard about the new FREE Top Gear news app for iPhone, iPad, and iPod Touch? It's online, and it's loaded with behind-the-scenes content, photos, videos, previews, car reviews, and tons of passionate rants from the Top Gear boys. Oh, and our Top Gear Thursdays are featured in it, so you can have our roundups everywhere you go. Pooooooweeeeer.
• He doesn't like Mondays, but he sure loves the four-letter words. Watch Sir Bob Geldof's profanity-laden lap around Top Gear's test track in this outtake.
• BBCAmerica.com's Top Gear site has posted a gallery of the show's top 10 best challenge vehicles. One of our faves: Richard's "Second-Class" car from this past season's caravan/locomotive challenge. See more of these great Top Gear moments in the Top Gear Top 40, airing Mondays at 8/7c: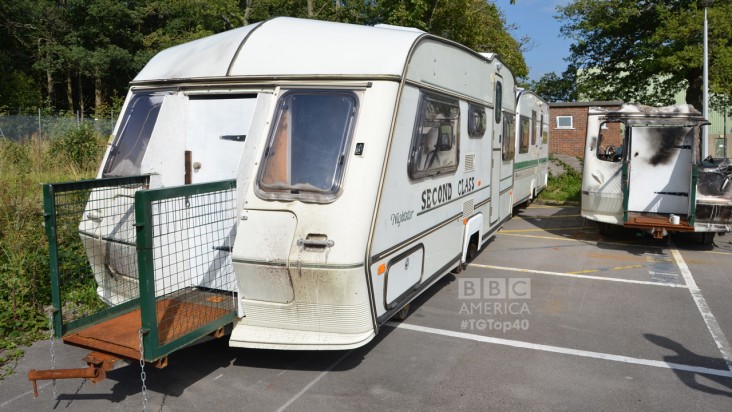 • Speaking of Mr. Hammond, we've posted a guide to dressing like the Hamster himself, right down to leather jacket and meticulously tousled hair.
• Over on Top Gear UK, Richard Hammond, in a piece titled "Driving the Icons," takes the legendary Lotus Carlton for a spin. What drew him to the car? First off, it was an family car (an expensive one, by the way) that became famous for its use by thugs – its top speeds left police cars in the dust. It was made in just one color, called "Imperial Green," so dark that it appears to be black except in the brightest lighting conditions. Only 950 of the cars were made, and production ended altogether in 1992. "It's like a unicorn with a cosh," writes Hammond. Okay, we had to look up "cosh" – it's like a bludgeon or a crowbar, in keeping with the car's family – err, crime family – image. "Best of all, its very existence and the morality of a family car capable of 180mph was debated in parliament," writes Hammond. "How bloody cool does that make it?"
• And since the reason for the season is free stuff, the BBC America Shop is celebrating the holidays by giving away a $500 gift certificate to their online store. That's "Whoa" No. 1.
"Whoa" No. 2 is we're giving away a Clarkson: Supercar Showdown DVD ($7.98) to one lucky commenter on the blog. Submit your favorite Top Gear quote in the comments below before 11:59 pm ET on Sunday, December 11, and one entrant will be randomly selected as the winner.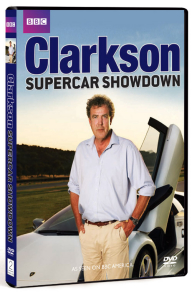 No purchase necessary. Void where prohibited. Must be 18 years of age and a resident of the United States in order to enter. Please see a full list of rules at https://www.bbcamerica.com/anglophenia/the-anglophenia-giveaway-official-rules/.
Read More
Filed Under: