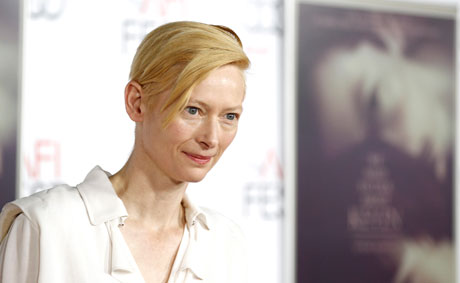 Tilda Swinton's admirable acting will be on display this weekend when her latest film We Need to Talk About Kevin opens in cinemas.
She plays a guilt ridden American mother whose life is forever changed when her son goes on a high school killing spree. The film focuses not on the massacre itself but on the aftermath.
Swinton has been making a very favorable impression with her performance, and it's put her in the running for an Oscar.
Overall this has been a pretty good year for the British actress.
Recently she told me: "2011 has been a very, very satisfying year because it's a year when I completed a trilogy of films that I've been working on for nearly 15 years — and they're all done. So I feel like a farmer who's had a big harvest and 2012 is going to be a big sleep!"
We Need to Talk About Kevin is set in the U.S., although the film, based on the 2003 novel written by Lionel Shriver, has been made by Scottish director Lynne Ramsay.
The picture isn't intended as any kind of social critique of violence in American schools. Tilda Swinton says "It's not really about society. It's not social commentary at all."
The actress sees it more as the story of a mother: "She's really locked in her house and in her own head for most of the film."
While she was in New York recently Swinton was promoting the film which has received some strong reviews. But the actress has acknowledged in the past how it was a challenge to stimulate interest in the work. "Anything that feels very, very difficult and new and isn't easy to sell in one sentence is going to be a slightly uphill struggle," she says.
http://www.youtube.com/watch?v=ozm-hlPNGX4
Are you a Tilda fan? What is it about her that you like?
Read More
Filed Under: