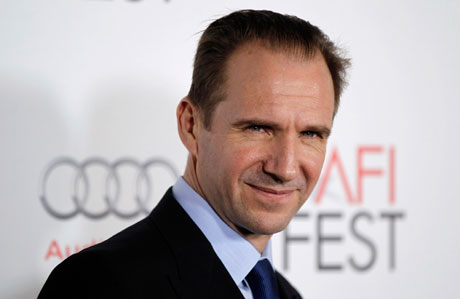 In Coriolanus, out in cinemas today (December 2), Ralph Fiennes makes his directorial debut taking on one of Shakespeare's lesser-known plays and transposing it to a modern-day setting.
For this respected British actor, who also stars in Coriolanus, taking the reins behind the camera for the first time was a challenge. He says: "I think everyone was watching to see where I would go under or be overwhelmed. Well, I was determined not to be."
Fiennes efforts appear to have paid off because many critics are impressed.
The picture is set in a place called Rome, a contemporary war-torn Balkan style country, where Coriolanus, a proud warrior, has returned victorious from battle.
He is encouraged to run for consul. His mother, played by Vanessa Redgrave, is one of his strongest supporters. But the apolitical Coriolanus refuses to court the favor of the citizenry. After intense deliberations he's banished and ends up forming an alliance with his former enemy, Tullus Aufidius, swearing to take revenge on Rome.
Fiennes maintains he wanted to transpose Shakespeare's play to a contemporary setting so the audience would connect with the material.
He sees some of the themes in the film — which include explorations of power, politics, and emotion — having topical relevance.
Fiennes says: "I feel that with the Iraq War going on and the continual unhappiness in Israel and Palestine – and war in Chechnya and Colombia there are constant violent interchanges between how people and politics coordinate themselves – and figures of authority comes into play."
Fiennes, who's played the title role on stage, sees Shakespeare's work as, "a very dynamic, political thriller with a Greek tragedy at the centre, this central mother-son relationship."
His on-screen portrayal is, at times, very intense. At one moment there is an explosion of Coriolanus' rage inside a television studio.
Fiennes says: "One review I read said it was too much, but I wouldn't change that. I think it's got to be this raw explosion of profound anger and hate. He's extreme. It has to be extreme."
Although he was starring and directing the film the actor was generous to his cast in not hogging the limelight. He's very well supported by his fellow actors who not only include Vanessa Redgrave but also Gerard Butler, Brian Cox, and Jessica Chastain.
The film is just being shown for one week in New York and Los Angeles so it can qualify for Oscars consideration. It will have a wider release in January.
Read More
Filed Under: