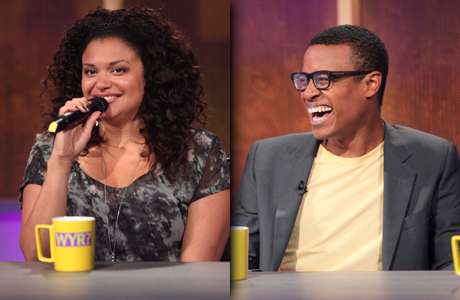 BBC America's new panel game show, Would You Rather…? with Graham Norton — premiering with back-to-back episodes tomorrow (December 3) at 11 pm/10c — provides a rare opportunity for famous folk to truly let loose, as they answer questions like, "Would you rather be known by the pet name your significant other calls you or by your childhood nickname?" Or, "Would you rather everything you ever said for the rest of your life was the absolute truth or an absolute lie?"
A few of the panelists from the show have offered an even more up close and personal look at themselves, filling out a few questionnaires and posting them to the "Would You Rather…?" show site on BBCAmerica.com. First up, comedienne Michelle Buteau reveals that she's "like Gordon Ramsay… a part-time therapist, a part-time cook and full-time crazy." And fellow stand-up Jordan Carlos owns up to a childhood crush on… Olympia Dukakis?
Michelle Buteau says she's most like Chef Ramsay… which BBC America character are YOU most like?
Read More
Filed Under: