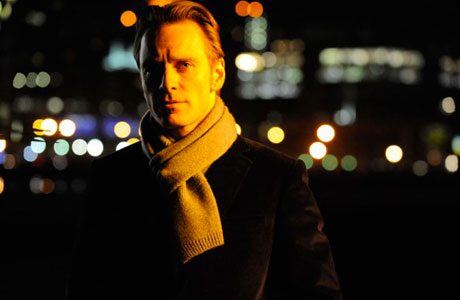 In Shame, released today (December 2), Michael Fassbender gives a raw portrayal of sex addiction that's already won him the top acting award at the Venice Film Festival.
The actor bares it all in this sexually explicit film which tells the story of Brandon, a man with a nondescript corporate job, whose days revolve around sexual conquests, pornography, and masturbation.
At its heart it's the story of an isolated individual who cannot form intimate relationships.
Fassbender maintains the sex is not in the film to titillate but, "to give insight into the character, to reveal things to the audience. You see this ritualistic approach that he has to sex."
The film presents Brandon as a man consumed with a disease. The actor says it "shows the need to get the fix, the urge, the lust, the desolation, the pain, and the shame of it — and the self-loathing within the character."
It's Fassbender's second collaboration with British director Steve McQueen. The two worked together previously on the 2008 drama Hunger, in which Fassbender gave a critically acclaimed portrayal of the late IRA hunger striker Bobby Sands.
The actor maintains because of his relationship with McQueen he didn't have qualms about doing full frontal nudity. Fassbender says: "I trust him implicity. It's like put the camera wherever you want. I don't care. It's not like I'm going to interfere with your storytelling."
Shame, which has been given a restrictive NC17 rating, does raise the issue of when does a film cease to be art and become pornography.
"I don't really care what labels anybody puts on it. We're dealing with this topic and we dealt with it in a respectful way," says Fassbender.
He points out that there's greater accessibility to pornography nowadays and he sees it as valid to investigate our relationship with it.
He adds: "I don't fire weapons, or chop people's heads off, and yet that seems to be more acceptable and more the norm in terms of films that we're watching en masse."
He's making the point that he doesn't see Shame any more pornographic than the violence that's in a lot of films.
Although the focus in Shame is on Brandon, and his exploits, it's not just a one-person show. Also giving a strong, rather overlooked performance is Carey Mulligan playing Brandon's unstable sister.
The film's release this week caps a glorious year for Fassbender. He has had key roles in Jane Eyre, X-Men: First Class, and A Dangerous Method which have all brought praise.
Now with his work in Shame generating very strong reviews he's proved he's an actor who can do just about anything — and succeed.
Read More
Filed Under: