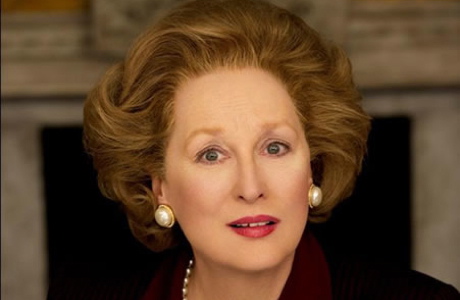 Meryl Streep's long-awaited screen portrayal of former British Prime Minister Margaret Thatcher in The Iron Lady arrives in U.S. cinemas Friday (Dec. 30) amid widespread predictions that it will bring the veteran American actress her 17th Oscar nomination.
Advance reviews of Streep's performance have been almost universally positive, with critics praising her for the accuracy of her portrayal.
To many, her ability to recreate Lady Thatcher's distinctive voice has been uncanny. On getting the voice right, Streep told me: "I think it's in me. It wasn't hard, but it took practice."
Meryl Streep – who's well known for her support of liberal causes – may not have agreed with Thatcher's brand of conservative policies, but she has respect for what the leader achieved in a male-dominated world.


"There isn't any kind of role like this, because we've never had a female prime minister in the Western world – ever," says Streep. "This character is unusual."
The Iron Lady is not a straightforward biographical picture. The former prime minister is presented as lonely and demented, having imaginary conversations with her late husband Denis Thatcher who died in 2003. It's a portrayal that's brought some criticism from Thatcher supporters.
But Streep counters that it's not meant to be a definitive view.
"It's a very subjective look at a very big life, but it is a look back from the waning edge of power," Streep says. "It's a look back at power from the point of view of powerlessness. It is a very selective look at certain challenges that an old lady remembers based on the challenges that she faces in her daily life."
As a result of working on the film, Streep was surprised by some of the odd details she learned about the former leader. "To find out that she didn't have a cook while she was prime minister, that just flabbergasted me," she says. "I mean, how do you have that big job running the UK for eleven-and-a-half years and not have somebody make you dinner?"
The Oscars race is still at an early stage, but many oddsmakers are predicting that not only will Streep get nominated for her portrayal of Margaret Thatcher but there's a very good chance she'll take home the best actress trophy itself.
Read More
Filed Under: