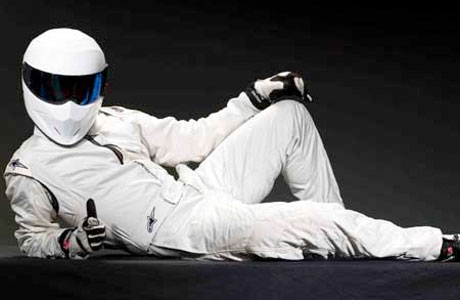 To bring our season of Top Gear-related cosplay posts to a close, here's the one you've all been waiting for: never mind Jeremy Clarkson, Richard Hammond or James May, here's the big cheese, the inflatable spatula, the spam elephant himself*, it's the Stig.
1: Hair – Any hair is fine, you'll be wearing a white crash helmet with a face-protector and black tinted visor. Hell, you could even paint your face to look like Spider-Man and no one would know.
2: Shirt – No shirt.
3: Tie – No tie.
4: Jacket – No jacket.
5: Trousers – No trousers. You just need that racing driver fire-proof onesie. Or a boiler suit that you've padded at the shoulders.
6: Shoes – White basketball boots will do nicely.
As for accessories, you'll need a pair of white ski gloves, and the ability to stand quite still with your arms folded. Do not dance, do not flop down on the sofa. Do not take your helmet off to have a drink. Do not take your helmet off to eat a vol-au-vent. Do not take your helmet off because you are hot. Do not take your helmet off to snog a hottie. Do. Not. Take. Your. Helmet. Off.
Other than that, have a brilliant Christmas party!
* sorry, I got excited.
Read More
Filed Under: