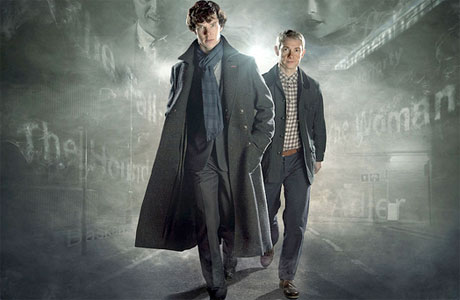 The BBC have released more details about the second series of their acclaimed Sherlock Holmes adaptations, starring Benedict Cumberbatch and Martin Freeman. In special interviews to promote the show, writers Steven Moffat and Mark Gatiss (with Benedict and Martin themselves), have been describing how they approached the sequel to one of TV's biggest hits of the last few years.
Steven Moffat explains that the challenges this time around are less about winning over the doubters, and more about matching fan expectations: "Last time nobody knew about us and there was some scepticism about 'modernising' Sherlock Holmes. And now look at Benedict and Martin, they are so famous in those roles! So far the series has sold in over 180 countries worldwide, so it's a very big change."
Mark Gatiss, who has written The Hound of the Baskervilles – probably the best known of all the Sherlock Holmes stories – adds: "The obvious follow-up was to cover the three most famous Conan Doyle books and I'm really thrilled with them, I have to say."
Steven: "Instead of making people wait years and years, we thought – to hell with deferred pleasure, let's just do it now, more, sooner, faster!"
Benedict explains how the series will change our perception of the character: "I think the audience can expect three incredibly different films. The first episode is going to be about the heart, whatever that may be for Sherlock. The second episode is about horror and suspense and the third is going to be a bit of an emotional rollercoaster and a thriller, so expect love, horror and thrills!"
Steven: "I think the first series was more about John Watson being redeemed from being a massively traumatised war veteran into a bit of a hero. This year it's more about the forging of the mighty Sherlock Holmes."
Martin, who had to take a break in the shooting of the new Hobbit movie in order to make his return as John Watson, says the dynamic between the two leads will be changing slightly in the new series: "By the end of the first series you saw John and Sherlock's relationship moving on, John went from being merely 'agog' at everything Sherlock did to being just miffed at some of his actions. That takes a step further in the new series and I would say it is definitely a partnership now, with Sherlock being the main thrust, but John is only half a step behind, as opposed to six steps behind."
Benedict: "I think the humor comes out of new situations rather than their relationship. Without giving anything away, there are some very nice moments in the new series and of course there is the comedy of John reprimanding Sherlock. John knows now, what he's dealing with in Sherlock, he's accepting of his friend, I think in this series, what we see more of is John having to explain it to other people."
Steven explains that it was always a conscious decision to make fewer episodes, in order to give each story longer to develop properly: "We think of them as films because they are ninety minutes long and once we knew we weren't doing hour long episodes they needed to be on that sort of scale. They have to have the size and weight of a movie."
Which effectively means they've now made six movies in the space of time it takes George Lucas to digitally crazy glue a new alien over the cantina scene in Star Wars.
Mark: "My idea for Baskerville was, as ever, to look for the 'modern'. So rather than setting it in a spooky old house, I wanted to find the sort of thing that frightens us today. We're still a very credulous species but we tend to be more afraid of secret goings-on and conspiracy theories. So I thought, what about a scary weapons research place out on Dartmoor? Where secret animal experimentation or something similarly terrible was taking place."
"I wanted to make it the scariest version there's ever been. Trying to work that out almost killed me!"
Here's a brief snippet, culled from a longer trailer for BBC drama:
And with the introduction of Irene Adler, Holmes's intellectual sparring-partner, there's even a hint of romance. Just a hint though, as Benedict points out: "Irene Adler is someone who has an incredible amount of power. She's very beautiful, very smart and intelligent, quick-thinking and resourceful. She's got a lot of attributes that mirror Sherlock and she doesn't suffer fools gladly, Steven and Mark are very clear though, this is Sherlock 'and' Love, not Sherlock 'in' Love. But viewers can expect a lot of flirtation!"
This is something which will please John Watson enormously. "John thinks Sherlock would be much healthier if he had a relationship with a human being as opposed to a theory or something," says Martin, "I think it makes Sherlock more human in John's eyes."
And as he sees it, it's their relationship which is the key to the show's popularity: "I think people just like seeing friendship. I think people like seeing people who just drive each other up the wall, but at same time, can't live without each other. You see it in Waiting For Godot and Steptoe And Son, that's everything, especially involving two blokes who want to kill each other, but ultimately, where else are they going to go?"
Mark concludes: "The most wonderful and moving thing that happened to me throughout the whole series, was getting a letter from a woman whose son was profoundly dyslexic, who had never read a book in his life and he's now read all of the Conan Doyle books.
"The entire canon of Sherlock Holmes is fantastic and sales of the old stories have gone up and I couldn't think of anything more brilliant than for people to be pointed back towards Doyle, who is the well spring of all of this. And still a criminally under-rated genius writer."
Read the full interviews at the BBC Media Centre.
Read More
Filed Under: