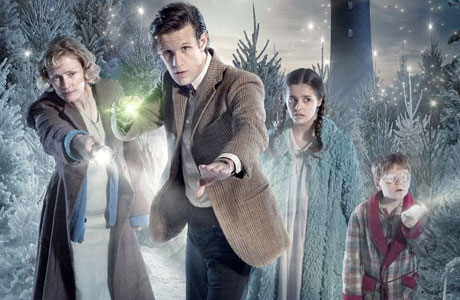 Let's do this properly. It is less than a week until the Doctor Who Christmas special – more properly called The Doctor, The Widow and the Wardobe – and what we want is just the right amount of insider information so that we're keen, but not overwhelmed by facts about things before they happen, right?
Well, Radio Times has interviewed all of the stars of the Christmas special to get some hints on what we may be about to recieve. Here are just a few choice quotes, to get you in the mood.
Matt Smith: "We've covered a whole forest in snow. The scale is vast and there's just something wonderfully magical about it because it's never that snowy in this country, except maybe in Scotland… and on the telly!"
Alexander Armstrong (who plays an RAF pilot): "It was roasting in [the Lancaster bomber] because there's no ventilation. I don't know how they survived the war! I had to hang out of the pilot's window gulping in air."
Bill Bailey (who plays a kind of space gardener): "The reaction is extraordinary. I mentioned on my Twitter feed that I was going to be in the Christmas special and the whole thing just lit up like a Christmas tree with people clamouring to know what I was playing."
And finally Arabella Weir, who once played a female regeneration of the Doctor in an audio play, back in 2003. During the audition she was asked if she was a Whovian, and she replied "No, I'm only doing this because my best friend David Tennant's a big fan of it."
And if you're looking for all-new images of the special, these were just released:
And if that's not enough, here's another sneak peek. Consider your whistles wetted:
• We're used to the idea of aliens invading Earth in episodes of Doctor Who, but did you know the Christmas Special was plagued with an invasion of its very own? Holly Earl, who plays 15-year-old Lily Arwell, explains: "We were filming at a big mansion house where [the Arwell family] get evacuated to and there were these cows in a field."
Not just ordinary cows though. Spooky cows: "I don't know how they escaped but they started to slowly edge closer. You're filming a show and there's a cow wondering across in the background, that was bizarre!"
So when series 7 contains a story about a race of big ruminant mammal-type aliens, slowly wandering across space and chewing, you'll know where the production team got the idea from. (via Cultbox)

• This week's companion post is about Adam Mitchell, the hacker who caught Rose Tyler's eye, but didn't pass the Doctor's stringent entrance exam for the TARDIS. Yes apparently he does have one.
• The announcement that Karen Gillan and Arthur Darvill will be leaving Doctor Who in 2012 may still be reverberating around the Whoniverse, but Karen already has her eyes set on future projects, including a lot more stage work. She's got a hankering to appear on Broadway, but definitely not a musical, as she told the Los Angeles Times: "I genuinely just want to do good work. I'm interested in character, whether that's in a play or a film or an indie film."
• Speaking of goodbyes, the Radio Times website has put together a list of the five greatest companion farewells. You can probably guess some of them, but best have a box of tissues handy when watching.
• Remember the gangers in The Rebel Flesh? Well, according to Sarah Smart, who played Rory's special friend Jennifer, getting that effect just so took a lot more work than simply jamming the actor's heads into a bucket of custard and yelling "action!"
"They made a cast of my whole head for the prosthetics, which was quite scary. Your lips are covered and they have to keep clearing the gunk out of your nostrils so you can breathe. It gets really heavy. It took six hours to get it on, it was a big transformation." (via Sunday Mercury)
• If you're stuck with Christmas book tokens and no idea what to spend them on, there's always Michael Troughton's biography of his father Patrick, who played the Second Doctor. It very much places his time in the TARDIS at the centre of his career, even though he was a well-respected stage and screen actor, before and afterwards. A fine way to bone up on the Doctor who Matt Smith says most influenced his playing of the role. (via SFX)
Read More
Filed Under: