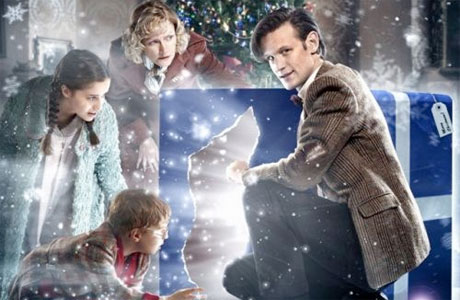 Steven Moffat says "you can expect to cry your eyes out for about 20 minutes solidly" with the upcoming Christmas special, "The Doctor, The Widow and The Wardrobe," set to premiere Sunday, December 25 at 9/8c on BBC America.
And he also provides a more-than-decent suggestion as to what to get the Whovian in your life for Christmas. Check out an interview with him at Forbidden Planet London, where the Moff took part in a signing for The Doctor Who Brilliant Book:
http://www.youtube.com/watch?v=Tg5l5EpkkQs
• Matt Smith and his co-stars in this year's specials, Claire Skinner and Alexander Armstrong have all given interviews about their characters in "The Doctor, The Widow and The Wardrobe."
In his Q&A, Matt says, "It's a brilliant and touching story about a family who have experienced a tragic event and in many ways they've had Christmas stolen from them." He adds, "The Doctor, in a very 'Doctory' way, tries to bring Christmas spirit and cheer back into their lives." During the Blitz in World War II, Madge Arwell and her two kids, Lily and Cyril, take us residence at a "a ramshackled old house in the country" where the Doctor is "the caretaker."
"He has 'Doctorified' the house so to speak," Matt says, "and there's a magical present under the Christmas tree which is a portal to another world. Cyril enters it and discovers an enchanting landscape that encapsulates the beauty, danger and madness that is Doctor Who at Christmas."
Skinner talks a bit about her character, Madge Arwell, whom she says is "first and foremost, a mother. It just informs everything about her character. What I found attractive about the role is that she's warm and a thoroughly decent woman, as well as being quite straight down the line. In the episode she gets tested and challenged and it's interesting to see how she handles different things and adapts to various situations for the sake of her children."
Alexander Armstrong — best-known for his comedy partnership with Primeval star Ben Miller — plays Madge's husband Reg in the special. He describes his character as a "a bomber pilot in the Second World War. We witness him flying over the channel and all the navigation equipment completely stops working. It doesn't look good for him! His wife Madge then receives a slip of paper saying that a 'Reg' is missing and presumed dead. Their two children hope that their Daddy is going to be back for Christmas and that's when the Doctor gets involved to return a favor to Madge as she helps him out at the very beginning of the episode."
• For more pictures of the Christmas Special, head on over to Doctor Who web site, they've got quite the gallery going on.
• Also on the Doctor Who web site: turn the traditional "'Twas the Night Before Christmas" story into a Who-tastic holiday tale using a handy Mad Libs template. Submit your story to us at XmasMadLibs@bbc.com and we'll show off our top 10 favorite entries and let Whovians all over the world vote for their favorite. Winner takes home a DVD of last year's Christmas special, "A Christmas Carol" just in time for the holidays.
• Here's a four part Q&A with Matt Smith, Karen Gillan, and Arthur Darvill to celebrate the Season Six DVD launch, which took part in the Westfield shopping mall in London. BBC Radio 2's Jo Whiley (a long-time Whovian) is asking the questions.
• Russell T Davies has left Los Angeles and returned to Manchester following the diagnosis of his longtime partner Andrew Smith with brain cancer. Smith had undergone surgery and is now taking chemotherapy treatments. The Torchwood creator and former Doctor Who scribe didn't think twice about putting his booming writing career on hold: "It was a simple decision – he's more important," he told PinkNews.co.uk, "Who gives a f*** about writing scripts if I can stay at home with him and make his day a bit happier? I don't know when I'll start work again. I've got to see how Andrew's health goes."
• This week's companion is K9, described (by us) as being "part Jeeves, part Scrappy Doo." And all marvellous, of course.
• Here's a concise but lovingly written history of the Doctor's home base/space ship, the TARDIS. "Like Bruce Wayne's Bat Cave, or Sherlock Holmes' Baker Street opium den," muses The Register's Ian Harrison, "you couldn't have Doctor Who without his Time-And-Relative-Dimension-In-Space trans-temporal runabout with its roundel'd control room, hexagonal console and optional hat stands."
• BBC has announced the release of four new classic Who titles on DVD this spring: The Face of Evil and special editions of The Three Doctors, The Robots of Death, and The Tomb of the Cybermen. (via IGN)
• Just call him Doctor: Noel Clarke, a.k.a. Mickey Smith from the Russell T Davies era, has picked up an honorary doctorate from the University of East London.
• Here's an oldie but goodie: Charlie McDonnell (of Chameleon Circuit fame) buying gifts for the Doctor Who cast in a Confidential clip. Matt Smith asking for a "badger" still makes us LOL.
Read More
Filed Under: