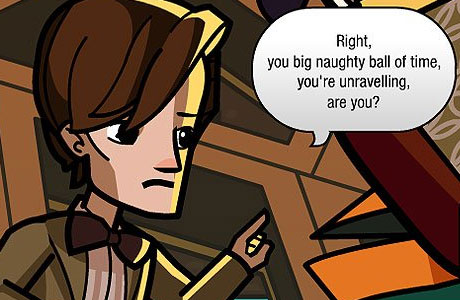 So, the Christmas special has come and gone, the Doctor's enjoying his Christmas dinner with old friends and all is right with the universe, what better time to get stuck into a new parallel adventure, told in cartoon form? Exactly.
Doctor Who: Worlds In Time is a free new online multiplayer game from BBC Worldwide Digital Entertainment and Games, in which you're invited to create your Doctor Who avatar and form gangs in order to complete fiendish tasks. The backdrops for these includes Skaro, Messaline, New New York and The Library, and of course there will be appearances from the Daleks, Cybermen and Weeping Angels.
The game will be released commercially in the new year, but you can sign up for a preview launch version right now. Here's a little taster:
Meanwhile, back on planet Earth, here's Matt Smith on The Graham Norton Show, in which, besides admitting to a dodgy past pretending to be in a boyband to get into nightclubs, and failing to demonstrate his skills with a soccer ball, he said this about Karen Gillan's departure from the show: "I'll miss Karen because she's my best mate. She's mad as a box of cats but a firecracker."
And following on from last week's Christmas Special quotes, here are another selection from the special guest actors, this time from various newspaper interviews over the past week:
Bill Bailey (the Harvest Ranger with a beard): "When I arrived at the set, it was quite breathtaking. This beautiful forest, decked out in snow – it looked amazing. And then us as forest space farmers clanging around, it was such fun. It was a juxtaposition of all that is the essence of Doctor Who for me." (via the Telegraph)
Alexander Armstrong (the fearless Rex Arwell): "I'm really pleased to have got in, particularly while Steven [Moffat]'s in his pomp. It's a sort of 'purple patch' of Doctor Who and it's lovely to be right in there!" (via Digital Spy)
Arabella Weir (the nice lady Harvest Ranger): "The best thing of all about being in Doctor Who is other people's reactions when they hear you're in the 'flagship' episode – one little boy nearly wet himself, while another told me I was lying "because it's impossible that I could meet someone who is in Doctor Who." (via the Telegraph)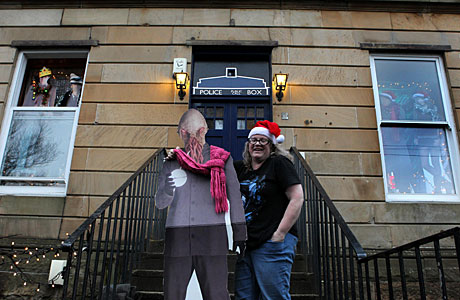 • Erica Quinn, from Glasgow, is a Doctor Who fan, just the same as you or me. However, she also managed to find the means to get a double front door with tiny panels of glass above the doors, just like the doors to the TARDIS, and (here's the real stroke of luck) she found an actual police box near to her home, in Glasgow's botanical gardens. Which meant she was able to get a color-match for the paint, for extra authenticity. Naturally, as this picture shows, she was quick to take advantage and now she has a TARDIS front door, to match her lifesize cutouts of the Tenth and Eleventh Doctors, Amy Pond, Captain Jack and an Ood. Perfectly rational behaviour all round. (via the Belfast Telegraph)
• If you're new to the Whoniverse, or have only come to enjoy the show since the relaunch, there's a new ebook, compiled by the Guardian, which seeks to bring together the whole story, from the show's earliest years to the modern day, with one eye on the reactions from critics and audience alike. Martin Belam, the book's editor, explains more in the Guardian.
• Sarah Jane Adventures fans, did you know there was a plan to give Mr Smith human form, before the untimely death of Elisabeth Sladen? Alexander Armstrong (yep, him again), who voiced the all-knowing computer, told Digital Spy: "They invited me to come and be Mr Smith personified. There was an episode [planned] where he steps out [of the computer]. They were ready to write that up and make it into quite a fun role, but I just wasn't available."
• And finally, we leave you with this quote from Dame Helen Mirren, just an interesting thought for the future: "I would like to play the new female Doctor Who. I don't want to just be his sidekick."
And why not?
Read More
Filed Under: