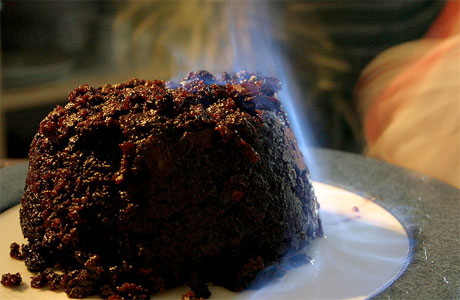 The only definite fact about Christmas pudding that is applicable to all British people at Christmas time is that they know what it is. They may call it a plum duff, or a plum pudding, and they may serve it with brandy butter (exactly what it sounds like, only with extra sugar), or brandy sauce (white custard made from booze), or even cream (I've seen people eat it with natural yoghurt too) or they may choose not to serve it at all, but at the very least they know what it is.
The history of the classic Christmas pudding goes back years, to the medieval era, which is clearly the most fertile festive era for traditions. At the time there was a decree from the Roman Catholic Church that "pudding should be made on the 25th Sunday after Trinity, that it be prepared with 13 ingredients to represent Christ and the 12 apostles, and that every family member stir it in turn from east to west to honour the Magi and their supposed journey in that direction."
The stirring became part of the ritual, with the whole family being encouraged to make a wish as they gave the pudding a poke with a spoon. This was called "Stir-Up Sunday" and clearly points to a more innocent time, before the development of, say, the Nintento Wii, or even Monopoly, as agents of family harmony. That's when you'd put a couple of sixpences in the pudding too, so that some lucky person would win an extra treat (and possibly a chipped tooth) on the day.
The coin thing does still happen, although they're no longer cooked with the pudding, as that would be a health risk.
Of course, cuisine was very different in those days, and over the years there have been probably as many recipes as there are chefs. Fundamentally, the modern Christmas pud is a heavily spiced boiled fruit pudding, which is black, and not unlike the inside of mince pies, only without the pastry and with greater solidity.
(For a good recipe, try the BBC Food website)
In the olden days they used to make it by boiling the ingredients in a sock. Sorry, not a sock, a pudding cloth, after which it is left to hang and mature like a fine joint of bacon or a cheese. This accounts for the classic ball shape of the pudding. However, the Victorians preferred to cook theirs in a dish, turning it upside down to display, and adding a sprig of holly for extra festive cheer.
Of course, just before serving, it's traditional to douse the pudding in brandy and set fire to it, so the holly doesn't tend to last long unless you're careful.
The oddest thing about the Christmas pudding, given that it has taken such an enormous effort to make, display and then flambe, is that it arrives at a point in the Christmas meal where no one, not even Uncle Derek, who we all suspect of having hollow legs, can fit another morsel in.
So mum comes out of the kitchen, with great ceremony, bearing aloft a blazing pudding, and we all cheer and laugh, and then quietly push a very small portion around the bowl for a few minutes, yearning for the soft delight of a nearby sofa. Luckily the pudding keeps forever, so there's plenty of time to go back for seconds, once the Queen's Speech is over.
THAT'S the spirit of Christmas, right there.
Read More
Filed Under: