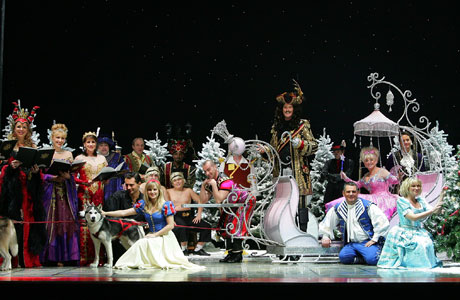 Finding out about pantomimes is like being asked to join the Freemasons, or finding the Room of Requirement at Hogwarts. If you know, you don't need to ask, if you need to ask, you'll never know. Because they're the kind of unique cultural phenomenon which only really makes sense when viewed from the ground up, and by ground, I mean childhood.
As a kid, the idea of going to a theatrical presentation where there are a lot of songs and silly jokes, where the story is loosely based around an old fairy tale (or Peter Pan), where people fall over a lot, and some of the gags seem to make the grown-ups laugh even though the references are all a bit puzzling, is all hugely attractive.
The fact that the main female character (or in the case of Cinderella's ugly sisters, characters) is played by a man is just something that is clearly fine, because everyone else is fine with it. And when the gallant hero emerges, and turns out to be a pretty girl in a tunic, that's fine too. At the end, the hero marries the heroine (also a pretty girl), in a big ceremony, and nobody leaps on stage and demands that this be downgraded to a civil partnership because it undermines the sanctity of marriage, or anything. It's just pantomime logic in action.
Similarly, when an argument breaks out among the characters, most often between someone bad and someone good, everyone just KNOWS to take the good person's side, and take up the kind of automatic gainsaying that would shame Monty Python's argument sketch. By which I mean "OH NO IT WOULDN'T! OH YES IT WOULD! etc"
Oh and whenever the bad character steps on stage, it's important to boo them and make hissing noises. To not do this would mean they are free to carry out all sorts of evil deeds unhindered, and we can't have that. And if they happen to be creeping up on one of the good guys, by all means yell "HE'S BEHIND YOU!" or something awful could happen.
Here's a brief sample. That man in a dress is Ade Edmonson, Jennifer Saunders' husband:
Luckily there's a reward when the pantomime dame – that's the man dressed as a woman – invites some of the children onto the stage for a brief sing-song and some free sweets.
Then there'll be a bit of dancing, a bit of plot (but not too much), some thwarted love, some actual love, and, right in the middle, a kind of specialist vaudeville act, featuring luminescent dog puppets or a juggler.
All of these things are a staple part of the pantomime experience. And do you know what else is weird? The season for panto lasts from December to February, a time which encompasses Christmas but also meanders way into the New Year. And yet panto is predominantly considered to be a Christmas phenomenon. It's certainly every bit as gaudy.
So you go ahead and confuse our festive theatrics with the performers who don't speak and pretend to be caught in a high wind. Even if you do go to a panto, there's every chance it'll leave you as baffled as it does enthralled.
We're much the same about rodeos and American Football.
Read More
Filed Under: