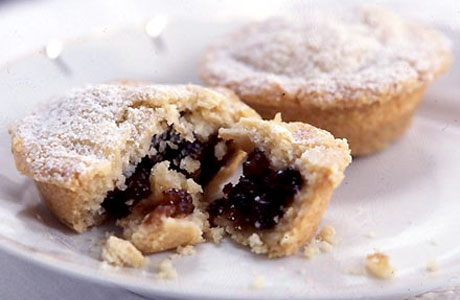 Have you ever tried explaining your family traditions to other people? It's not easy. The things that seem the most normal in the world suddenly look clumsy and stupid, and just as you're getting to the weird bit, the person you're talking to whips around and says "ah yeah but everyone does that, don't they?"
So it is with explaining the customs of the British Christmas. Not everyone does everything, and while some bits have made their way across the world, there is by no means blanket coverage. So, there's a more than reasonable chance that you either know all about mince pies, or have never heard of such a preposterous thing. So forgive me if I'm talking down/up at you.
The mince (or minced) pie is a traditional Christmas delicacy which can be dated back to the 13th Century. Knights were returning from the Crusades with their chainmail pockets stuffed with new spices, such as nutmeg, cloves and cinnamon. These were put to good use, flavoring a big pie which was filled with minced meat, suet and dried fruits. It was very much a hybrid recipe, taking in influences from all over the known world at the time.
This then became known as Christmas pie, and became a traditional festive meal, until after the English Civil War. Puritans felt that it was somehow an unholy sort of a dish, what with all of the pagan spices and all, so it was banned.
When the tradition was revived, the recipe became refined, more sweet fruit fillings and actual meat, and the size of pie began to shrink too. By the time of Queen Victoria, they had become individual pies filled with spiced fruits and suet (still called mincemeat, oddly enough), and dusted with sugar. And that is what they are today.
You can serve a mince pie as soon as you first start feeling a bit festive. There are no rules as to how best to serve them, either. They can be offered around like biscuits or served on a plate with cream, and they go equally well with mulled wine or a whisky mac as they do with eggnog or a nice cup of tea. So, why not give them a go?
If you wish to make your own mince pies, try this BBC Food recipe.
Oh and by the way, fans of Cockney rhyming slang might be interested to know that minces, a shortened form of mince pies means eyes. That's right, they're more than just a tasty treat at Christmastime, they're also a window to the soul.
Read More
Filed Under: