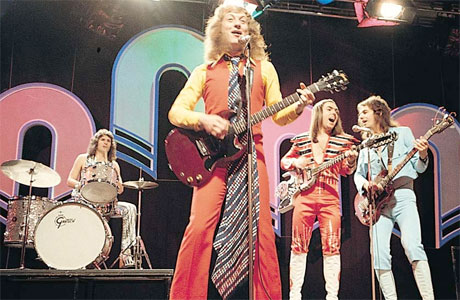 A big part of every festive season is the annual digging out of the Christmas CDs while you're putting up your decorations. There are old favorites to dust down, together with the addition of new and exciting cover versions of "Little Drummer Boy" and "Silent Night," which emerge every single year, to sit alongside such festive hits as That One By Mariah Carey and "Jingle Bell Rock" by That Cowboy Fella.
And it's the same over in the UK. Every shop has the same Christmas tape blaring out, and there are certain songs that simply have to be on it, otherwise it won't feel festive. And these three are so popular they regularly reappear in the British charts at this time of year.
You could even say they were written by three wise men, if you like:
The Pogues and Kirsty MacColl – "Fairytale of New York"
I know. Kind of rude and sweary, and completely lacking in goodwill to all men, but romantic and delightful and swoony too. That's how we like our Christmasses: bittersweet.
Slade – "Merry Xmas Everybody"
Second only to the Pogues in the nation's affections and far less contentious with the offensive language, so an honorary winner of the title of Best British Christmas song ever. Plus it ends with Noddy Holder bellowing "IT'S CHRIIIIIISTMASSSS" like Santa attempting to wake Rudolph from the other side of the North Pole.
Wizzard – "I Wish It Could Be Christmas Every Day"
A successful attempt by Roy Wood, a genius of popular song and the guiding light in the Move, the early ELO and Wizzard, to match the enormous joy created by Phil Spector's festive album "A Christmas Gift For You." Yes it's got a sarcastic cash-in till noise at the beginning, but that doesn't make it any less generous a gift to all mankind.
Which songs could you not imagine Christmas without? Tell us here:
Read More
Filed Under: