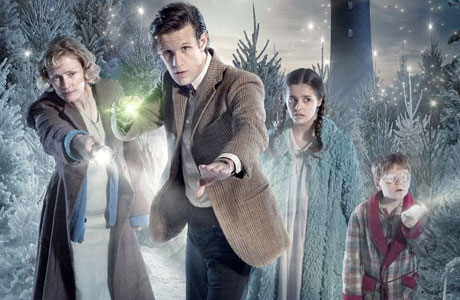 If there were no Christmas, there would still be a need for everyone to mark a point in the year in order to let their hair down and lark about. Birthdays are fine, but too specific to one person. What we all need is a moment to celebrate ourselves and get a little giddy.
This applies to TV just as much as it does to society at large, and so Christmas specials, as distinct from regular programming, have become a regular part of the landscape of broadcasting, often requiring actors to pretend to be feeling snow-coated and festive in the middle of September. That is, after all, what they do for a living.
British TV is no exception, and we've had some astonishing Christmas specials in our time, from Morecambe and Wise to Doctor Who, via Only Fools and Horses and the ever-reliable EastEnders (for which Christmas is never a time of good cheer).
This, then, is the crowning glory of the British Christmas experience, and a good place to bring our print-out-and-keep guide to a halt:
Extras (2007)
The Office Christmas special, the one where everything is brought to a satisfactory ending, is rightly considered to be one of the best TV moments of the last 20 years. But it does tend overshadow the final part of Extras, in particular the moment where Ricky Gervais's character Andy Millman finally realises that fame is just a hill pointing upwards, and not a destination, and reacts in horror at the things he has done in order to get to where he is. A beautifully written and performed TV moment, right up there with Tim and Dawn's first kiss.
Morecambe and Wise (1969 – 1980)
The single biggest item in the TV calendar for over a decade (apart from 1974, oddly enough), and still the standard for British viewing figures. Half the country tuned in to watch Eric and Ernie, especially when they brought in the A-list stars of the day, and then made fun of them. This is their best-loved festive skit, from 1971, in which Eric attempts to impress the conductor Andre Previn with his classical piano skills.
Only Fools And Horses (1996)
Another comedy Christmas special which effectively brought things to a satisfactory close (although they weren't left that way for long). The Trotters, a wheeler-dealing family who have never amounted to much, have found an antique watch in their lockup. It's been there years, because Del-Boy, the elder brother and know-it-all, never reckoned its worth. It is then discovered to be of historical value, and sent to auction. Then this happens:
Very satisfactory indeed.
Victoria Wood (2000)
It's a toss-up between Victoria and French and Saunders as to who does the better spoof TV show, as this clip so deftly demonstrates, but if you were to reduce it to a simple competition of quality celebrity cameos, and then ask who should win, Victoria would.
Doctor Who (2008)
How could I leave this out? Another cameo packed powerhouse, only it's drama instead of comedy and often breaks your heart. The Two Doctors, in which David Morrissey effectively rules himself in AND out of a chance to play the title role ever again, contains probably the most harrowing moment of memory recall in all of TV drama. Plus a massive Cyberman. What's not to love?
What's your favorite Christmas TV moment? Tell us here:
Read More
Filed Under: