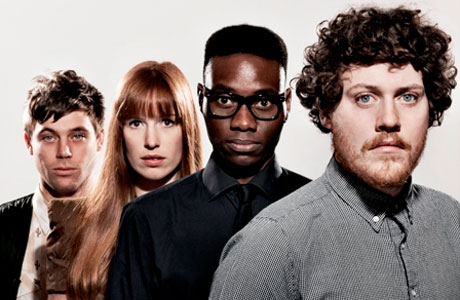 As the sun sets on another year, and the bloggers post their final compilations, attempting to make sense of quite a disparate musical landscape, the Anglophenia music obsessives have been busy in conference, trying to work out who owned 2011, and who failed to even grasp 20:11.
It's been a rum year for British music, with Adele and Florence obliterating all comers on the one hand, but a ton of slightly odd little bands making unique musical statements on the other. Character has not been in short supply, but a huge swathe of globe-conquering British hits, of the sort we can all get behind, have been slower to appear.
So, as part of Nerdist Week, here are Anglophenia's 10 Great British hits of the year. By all means add your own in the comments underneath.
10. "Asthma Attack" by CocknBullKid
"You were the one I lost my two front teeth to," Anita Blay (under the pseudonym CocknBullKid) intones in "Asthma Attack." This song isn't about some abusive lover, at least not literally; it's a sarcastic pop valentine to the city of London, a city that keeps bringing her back in spite of the physical/emotional toll it's taken on her. With its reference to LCD Soundsystem's "New York I Love You, But You're Bringing Me Down," "Asthma Attack" dazzled us this year with its unusual wit and disco-diva sparkle.
9. "Blackout" by Anna Calvi
Anna Calvi's stentorian voice signaled the arrival of a major talent, and this arresting first single found her wrestling with the darkness inside her soul.
8. "Still Life" by The Horrors
Continuing their twisty journey from art-goth caterpillars to psychedelic butterflies, the Horrors released "Skying," an album which performed devilish experiments based on the pioneering research performed by (among others) early '80s Simple Minds, Echo and the Bunnymen and the Teardrop Explodes.
7. "The Words That Maketh Murder" by PJ Harvey
"Let England Shake" mopped up all the music magazine end-of-year polls by being a) very different to everything else and b) very good. Peej's 'war songs,' often sung in her high harpy register, were the result of painstaking research, channelled through her unique poetic vision. This song is the best example of her fiery process at work.
6. "Someone Like You" by Adele
Even those suspicious of Adele's mega-success have to admit the emotional force of this love-lost ballad, featuring just her voice and no embellishments, aside from a relentless piano. From Adele's resignation in the verses to the anguished break in her voice as she shrieks, "Don't forget me/I begged/I remember you said," so-called "easy listening" rarely cut so deep.
5. "Post Break-Up Sex" by The Vaccines
Singer Justin Young manages to vividly capture the guilt, recriminations, and jealousy that arise when you discover an ex has had a meaningless, post-split hook-up — "I can barely look at you/Don't tell me who you lost it to" — all in one perfectly pitched distillation of every late-'80s alt-rock tune you ever loved.
4. "Wild Man" by Kate Bush
2011 was the grateful recipient of two new(ish) Kate Bush albums, after a gap of eight years in which there were none. "50 Words For Snow," the second, is a meditative swirl in which she let her imagination run riot with the transformative and magical aspects of that white stuff that falls from the sky. "Wild Man" is her accout of a search for the soul of the abominable snowman, Frosty's shy-but-grumpy uncle.
3. "Piledriver Waltz" by Alex Turner
http://www.youtube.com/watch?v=Bwhm3HrGA68
It's almost inconceivable that in the year a new Arctic Monkeys album was revealed to the world, Alex Turner's finest work should exist within the soundtrackt to a low key film, even one as charming as Submarine, which was directed by Richard Ayoade, star of The IT Crowd. And yet that's what happened. This song is among his best ever, being both flint-eyed accurate and swooningly romantic at the same time.
2. "Heaven" by Emeli Sandé
After hearing "Heaven," we dubbed this Scottish singer-songrwriter "Leoncé," as her vocals recall both Leona Lewis and Beyoncé. Add to that beats and strings that summon up Massive Attack memories, and this tune feels familiar. But the song, a lofty dramatization of a chat with the Lord above, is a towering achievement that transcends its influences and earns its gospel-choir finale.
1. "The Look" by Metronomy
On first listen, this might not sound like the song of the year. A wheezy accordion refrain, some '70s monosynth twiddles and a lightly-delivered voice describing a love affair blossoming before his very eyes. And yet the hidden claws come out after a while, the accordion takes on a monolithic emotive weight, the synths swoop and whoosh like a cloud of starlings, and the scary thrill of a first attraction is rendered in full 3D, raining pointy love hearts down from on high. A cracking pop song, in other words.
Honorable Mentions:
"Broken Record" by Katy B
"Skinny Love" by Birdy
"The Wilhelm Scream" by James Blake
"Face in the Crowd" by Cat's Eye
"I Know You'll Bring Us Back" by The Diogenes Club
"Shake It Out" by Florence and the Machine
"The Bay" by Metronomy
"Beat of My Drum" by Nicola Roberts
"Together" by Patrick Wolf
"Finish Line" by Yasmin
What did we miss? Tell us here:
Read More
Filed Under: