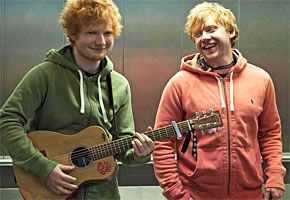 Clearly Rupert Grint has a bit of time on his hands at the moment, what with Harry Potter coming to an end and all. So when he got the call from his friend (and fellow coppertop) Ed Sheeran to come and appear in the video for his new single 'Lego House,' he jumped at the chance.
As you can see, the two men are fairly similar in looks, to such a degree that Ed could easily be taken for a long lost Weasley brother. So Rupert basically appears in the video as Ed's No.1 fan and stalker. Or to put it another way, another sidekick.
Here's a behind-the-scenes video of the video:
Sweet, isn't it?
Read More
Filed Under: