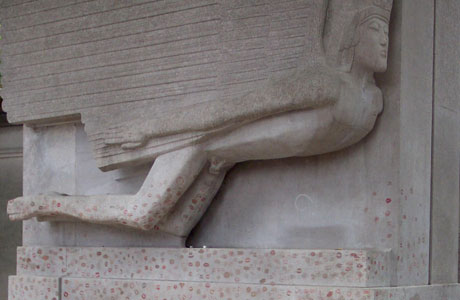 There's a statue in Pere Lachaise cemetery, which guards the final resting place of Oscar Wilde. For some reason, over the past 20 years, it has become the custom for people visiting the tomb to give it a kiss. As you can see from this picture, it's all about leaving lipstick kisses all over the angel figure and surrounding stonework, although you can't say it's just women doing it, for obvious reasons.
Now, in an eerie echo of Wilde's own poetry – "each man kills the thing he loves" – it turns out that the constant cleaning of the lipstick is damaging the tomb. And even though there's a fine of over $12,000 dollars for anyone caught kissing the stone, the lipstick prints remain.
Merlin Holland, Wilde's grandson, told the Guardian the lipstick is a "serious problem" because of the grease, which seeps into the porous stone: "Every cleaning was causing a bit more stone to wear away.
"No amount of appeals to the public did any good at all. Kissing Oscar's tomb on the Paris tourist circuit has become a cult pastime, which is proving impossible to break. Even if one could catch someone in flagrante delicto – there is a €9,000 ($12,030) fine – most perpetrators are probably tourists, so they would be home before the French authorities could bring them to court.
"From a technical point of view, the tomb is close to being irreparably damaged. Each cleaning has rendered the stone more porous necessitating a yet more drastic cleaning."
And now the tomb is being updated, to try and protect it. Dublin's office of public works has paid for the bulk of the refurbishment, including a glass barrier around it to deter the kissy vandals. The newly de-greased tomb will be unveiled on Wednesday November 30th, the 111th anniversary of Wilde's death.
Read More
Filed Under: