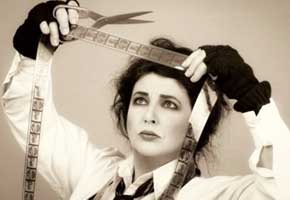 When she signed her first recording deal at the age of 16, and was sent off to grow up a little, the one thing Kate Bush wanted to study was dance. That's why so many of her early appearances on camera are fully theatrical occasions, with songs being acted out thoroughly, movements choreographed to key beats and musical motifs in a meticulous fashion.
Over the years her videos have relaxed in one sense, bringing in established actors to tell the story of the song rather than react to the music, but she's still working on innovative ways to illustrate her music visually.
It would not be too far-fetched to hope for a Pixar-animated Kate Bush video one day, would it? Actually, thinking about it, maybe Aardman Animations first…
"Sat In Your Lap"

The best example of her early 'interpretive dance' years, in which every dot and comma of her lyric is represented by a new costume, a specific dance move, or a new lighting effect. People say that Lady Gaga is good at videos, but did she ever rollerskate around a church hall wearing white professorial robes and a dunce cap? She did not.
"Running Up That Hill"
More dancing, only this time it's more abstract, as Kate enacts a metaphorical gender-role swap struggle with Michael Hervieu in a plush loft-style dance studio, complete with enormous velux windows and no overhead lighting. They're both deliberately wearing genderless Japanese hakamamas to emphasis male and female physical similarities, althought the hair and makeup do tend to give the game away. Kate stated that she wanted the video to use dance in a less frivolous and silly way than other pop acts do, so that's what she did.
"Cloudbusting"
A perfect union of song and film, in that the film brings out the story of the song, but the song is where the heart of the film lies. Donald Sutherland is a scientist with a controversial rainmaking machine, his child (played by Kate) watches him being taken away by the government, and gets it going in his absence. Doesn't sound like much: is astonishingly moving.
"This Woman's Work"
There's a strange chemistry between Kate Bush and comedians that serves to emphasise the serious – or in this case downright tragic – themes in her songs, especially when they're  comic actors of the calibre of Tim McInnerny. Tim's principal contribution to this video is to simply vibrate with extreme emotion – sadness, anger, desperation, relief – while wracked with worry as his wife is undergoing emergency surgery. It's not funny in any sense.
"Deeper Understanding"
In a way this bravura performance from Robbie Coltrane brings together all of the elements that make a good Kate Bush video great. You've got your seasoned thespian directly depicting a song in which a human struggles for creative expression and humanity against a bleak backdrop of modern administrative boredom. Robbie yearns for his computer to speak to him, it does (through an oddly toothless mouth). after which it's like Poltergeist for Twitter users, with unfortunate consequences for Noel Fielding from The Mighty Boosh.
Which Kate Bush video would make your list? Tell us here:
Read More
Filed Under: