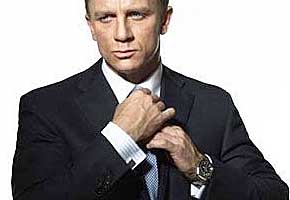 After we finally sorted out who would win in a punch-up between the six actors who have played James Bond, the producers of the 23rd Bond film have announced that it will be called Skyfall, and it will be directed by Sam Mendes.
Skyfall is to be released in October 2012 to coincide with the 50th anniversary of the first Bond film, Dr No, and will of course star Daniel Craig in the lead role.
He will be joined by the French actress Berenice Marlohe, and Britain's own Naomie Harris, and he'll be battling against Javier Bardem. Ralph Fiennes, Albert Finney and Dame Judi Dench will also appear.
As for locations, well let's just say Daniel will need visas for China and Turkey, and be prepared to brave the wilds of Scotland.
Bond fans, worried that Sam Mendes is not the right man to helm an all-action movie, may be pleased to hear, from the man's own lips, that he's looking forward to working on a "fantastic script" with "all the elements of a classic Bond movie, including – to quell any rumours – lots of action.
"The movie will reveal everything, and there's lots of surprises."
Including the person who'll write the theme song, as apparently that has yet to be decided.
Read More
Filed Under: