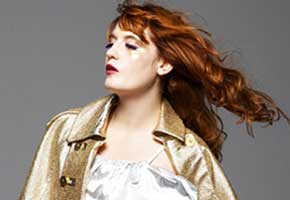 To celebrate the release of Florence and the Machine's second album Ceremonials, which hit the shelves in American stores yesterday, here's a gatheration of five female singers whose work is far too shimmery and wafty to properly nail down. Much like one of the gowns (they're not dresses, are they? Gowns is far more fitting a word) worn by Lady Flo herself.
Note: What we're after here is a collection of willowy and elvish Ophelias, lost in the mist, half nature-blinded and all swooning, which rules out equally astonishing singers like Laura Marling (too authoritative) and Siouxsie Soux (too aggressive). They can go on different lists.
Vashti Bunyan
Stick your fingers in your ears. Now hum very, very quietly to yourself. Congratulations, you're now a graduate of the Vashti Bunyan School of Singing. Hers is a voice that comes from deep within, from a place where microphones won't go, and that whisper-soft delivery is entirely unique to her. She became a legend among collectors of rare and arcane folk music, as she released just one album, the 1970 pastoral travelogue Just Another Diamond Day, which sold barely any copies, and then vanished off to raise a family. In her absence, the legend of the album grew (it was reissued on CD in 2000), flames fanned by celebrity endorsements from alt-folkies like Devendra Banhart, among others. And now she's making music again, and of course, still singing from that very quiet place.
Kate Bush
While we all now appreciate that there is no one like Kate Bush, and there probably won't ever be, it's fair to say that when the young prodigy Kate Bush released her first records, of which this was the breakthrough hit, people were a little unnerved. This young girl, still in her teens, coming out with deeply mature songs about jealousy and heartbreak – easily achieving the very thing that every other teenage girl tries to, and fails – and singing in a high, weird voice. It took years to fully appreciate just how singular an songwriter, producer and performer she is, about the same length of time that it took to work out that the voice she uses in this song is deliberately witchy, because she's singing from the perspective of a ghost. The clue was in the title of the song all along.
Elizabeth Fraser (The Cocteau Twins)
Another very singular voice and definitely the other astonishing genius of popular song in this list. Elizabeth's voice is the kind of thing that forces music writers reach for the thesaurus, eager to find a new word to describe things with spin and wheel around in the air like a flock of starlings, and praying they don't come across like a pseud with an erection. This is partly because her voice is startlingly emotive, and partly because she often sang made-up words that were not intended to make a heap of sense, it's all in the sound. A sound which the next two entries on our list were presumably well aware of, when they first started to sing.
Harriet Wheeler (The Sundays)
There is something in the prim-but-naughty delivery of the songs of the Sundays that made men in cardigans go a bit funny. In the presence of a song like "I Kicked A Boy" or "Can't Be Sure" they'd blush furiously, fingers a-twiddle, as if the gulf between the mind and the body had suddenly become impassibly wide. And it was this curiously chaste sexiness which propelled Harriet – the indie Hermione Granger – and her band to global success, taking their place as the point of overlap on a Venn diagram of the Cocteau Twins and the Smiths. That the band vanished after their third album Static and Silence, without ever splitting up, has only added to their compelling mystique, no matter how suburban the reasons for the enforced layoff.
Ellie Goulding
Bringing the list up to date is Ellie, a young confessional singer-songwriter like Kate, who sings high and tremulously like Elizabeth and Harriet, and soft and elvishly, like Vashti. She also makes very commercial pop records, which sound very nowadaysy and sharp, while retaining that essential sense of otherness that is the hallmark of the true etherealist. Oddly, Ellie rounded off last year with a cover version of Elton John's "Your Song," recorded for a TV advert, which was recorded without the studio spangles and twinkles, stripped back to wooden basics, and managed to entirely de-etherealize her voice. And y'know what? It was rubbish.
Who did we miss? Tell us here:
Read More
Filed Under: