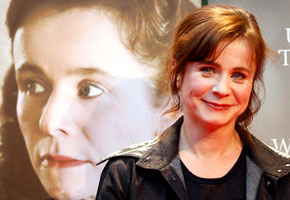 Speaking by phone from the set of Little Boy in Mexico, British actress Emily Watson told me how she's moving into a new phase in her career playing interesting mothers.
She portrays the matriarch in Little Boy which she describes as an adult fairy tale set in California during World War II.
As she explains: "It's quite complicated about the nature of faith and coincidence seen from a small boy's point of view."
The "mother" portrayal that may bring Watson the widest exposure will hit movie screens next month with the release of Steven Spielberg's adaptation of the critically acclaimed British play War Horse.
The actress plays Rose Narracott, the mother of the leading character, a young man who's in love with his horse as both are plunged into the horrors of World War I.
Watson says: "It's First World War meets Black Beauty. It's a beautiful story." She also says that "when you get a call from Steven Spielberg, that's quite appealing."
The actress says: "It's really Steven's territory — creatures and war — it's a very passionate piece."
War Horse is one of the most eagerly anticipated films of the year, and it's already been touted as a strong awards contender.
Watson told me shooting the film was a massive endeavor: "It was the biggest unit I have ever seen in my life, stretching as far as the eye could see. I didn't really know what to expect. The filming itself was very intimate, very actor-friendly, which I really enjoyed."
Spielberg has a reputation for sentimentalizing stories, but Watson doesn't think this is the case with War Horse. "I don't think so at all," she says, but she notes that she's only in the film in the beginning and the end.
She's found being on location in the resort town of Rosarito in Mexico somewhat sad. "It's a really beautiful part of the world. We're right by the ocean. I'm staying in a resort hotel which is totally deserted because Mexico has a reputation for being very violent at the moment — but where we are is incredibly safe. There's nobody here — the tourist industry has really died."
The actress has just a few more days left on the set of Little Boy which also stars British actors Tom Wilkinson and Ben Chaplin.
After leaving Mexico Emily Watson will return to London where she will work on a new production of Anna Karenina starring Keira Knightley and Jude Law.
What's your favorite Emily Watson performance? How would you rate her among the elite British actresses?
Read More
Filed Under: