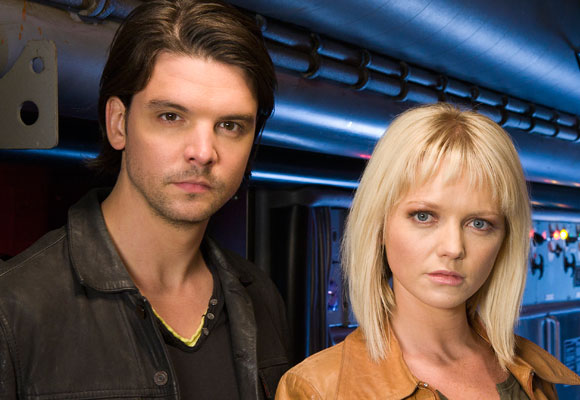 Acting is not like other work. You have to use your feelings for your job, and if called upon to do so, pretend to fall in love with some of the most attractive people every to walk the Earth. It's not an easy gig. And sometimes the lines between pretend love and real love become a bit blurred. Here are eight examples, some of which have resulted in actual children.
Andrew Lee Potts and Hannah Spearritt, Primeval
As anyone who saw Jurassic Park can tell you, nothing gets the reluctant spark of love to burst into flame like the swipe of a tyrannosaur's tail. Although it's a little strange that Hannah and Andrew's real life romance took off in a place where there are no dinosaurs (ie reality). Nevertheless, entangled is what they now are, and now they get to take their close personal feelings into the fantasy realm where the prehistoric monsters roam too, so it's a win-win.
David Tennant and Georgia Moffett, Doctor Who
Speaking of real life and fantasy, in reality the romancing of two actors on set is just a very nice by product of the creative process, and David and Georgia's romance was not the first one to come out of Doctor Who either (see below). For anyone who has trouble separating the two realms, however, this is a trickier union, in that you've got the Doctor going out with his own cloned daughter (within the strict reality of the show itself), and, one-level removed, you've got the actor who plays the Doctor going out with the daughter of the actor who used to play the Doctor (Peter Davison). It's fiction incest, or something.
Tom Baker and Lalla Ward, Doctor Who
Whereas this union, the charismatic Time Lord and his charismatic Time Lord wife is perfectly fine in either reality. Well, apart from the fact that Tom and Lalla's marriage didn't last a very long time (lord). She is now married to the literal God-botherer Richard Dawkins, and he isn't.
Matthew Macfadyen and Keeley Hawes, MI-5
Fear and adversity can breed intense emotions, ask anyone whose romance blossomed during the privations of wartime. So in a way it's no surprise that the cast of MI-5 – a show which made a feature out of killing off its star turns at the drop of a hat – found solace in each other's arms. Each new script must have felt like an unexploded bomb landing on the doormat. Thankfully they have both moved on, getting married, putting the trauma behind them, starting a family and rebuilding their lives as best they can.
Tom Hardy and Charlotte Riley, Wuthering Heights
Ladies, admit it, it's hard to resist a Heathcliff, isn't it? Especially when you're a Cathy. And that's exactly what happened to Tom and Charlotte, who found the experience of playing Emily Bronte's fate-blasted lovers to be such a heady thrill that they began a real romance. Thankfully it seems to be going better than that of their respective characters, in that both parties are still very much alive. So that's nice.
Jennifer Saunders and Adrian Edmondson, Comic Strip Presents…
A beautiful example of a collaborative creative couple; Ade and Jennifer met on the London comedy circuit in the very early '80s, particularly at a comedy club called The Comic Strip. The then-new Channel 4 commissioned the performers from that club to make a series of one-off comedy shows, called The Comic Strip Presents…, the first of which featured Ade, Jennifer, Dawn French and Peter Richardson as a parodic incarnation of Enid Blyton's Famous Five. They've been involved in each other's endeavours ever since, with Ade singing the theme music to Absolutely Fabulous (and providing the name for Jennifer's character –  Edina Monsoon = Edmonson), and Jennifer popping up in The Young Ones and further Comic Strip adventures.
John Alderton and Pauline Collins, Upstairs Downstairs

If we're honest, few of us would relish the chance to consistently work with the other significant person in our lives. It's all a bit John and Yoko, isn't it? And yet this is what John and Pauline did, after meeting on the set of Upstairs Downstairs. Their on-screen/off-screen chemistry was beguiling enough for them to be given their own offshoot series, Thomas and Sarah, plus the sit-com No Honestly, and Wodehouse Playhouse, a TV dramatization of the novels of PG Wodehouse. They've calmed down a bit now, although there are plenty of people who'd love to see them get together one more time (on screen. They're still married).
Meera Syal and Sanjeev Bhaskar, Goodness Gracious Me
Although they were already together by the time Meera and Sanjeev started putting together The Kumars at No.42 – the sequel to the award-winning sketch show on which they first met – there's an element of fiction incest to their relationship too, given that Meera plays Sanjeev's grandmother in the show. And she's been on Doctor Who too. Interesting…
Who have we missed? Tell us here:
Read More
Filed Under: