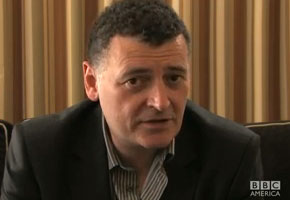 Last winter, London-born writer David Seidler won an Oscar for The King's Speech, his moving drama about King George VI's struggle to overcome a speech impediment. At age 73, the veteran TV scribe became the oldest person to win a gold statue for Best Original Screenplay.
From the early buzz this year, it looks like there's a betting chance that a fellow Brit just may end up at the podium on Feb. 26 to collect one or both of the two Oscars awarded to writers by the Academy of Motion Picture Arts and Sciences. Even better, we here at Anglophenia will be able to say we knew them when because of their BBC America connections.
Here's a list of authors behind several of this holiday season's most anticipated movies who also have penned BBC America shows:
• Abi Morgan, writer of BBC America's The Hour, has a shot for not one but two nominations. She wrote the original screenplay for The Iron Lady, the biopic about former Prime Minister Margaret Thatcher starring Meryl Streep (due Dec. 16).
Working with director Steve McQueen, Morgan also co-wrote Shame, the provocative, sexually-themed drama – it has an NC-17 rating – co-starring Michael Fassbender and Carey Mulligan that opens December 2.
http://www.youtube.com/watch?v=arD1Hmjlqag
• Adrian Hodges, writer of BBC America's Primeval, wrote the screenplay for My Week with Marilyn, a movie about what happened when Marilyn Monroe came to England to co-star with and be directed by Laurence Olivier in The Prince and the Showgirl (1957). Hodge's screenplay is drawn from two books by the late British filmmaker and writer Colin Clark, whose first job was on the set of the movie and who befriended the vulnerable, sexy American movie star. Marilyn opens November 23; Michelle Williams plays Monroe, Kenneth Branagh portrays Olivier, and Eddie Redmayne is Clark.
http://www.youtube.com/watch?v=1-b48Aj8zkg
• Steven Moffat, author of BBC America's Doctor Who, Jekyll, and Coupling — and of Sherlock on PBS — was tasked with helping Steven Spielberg to introduce Americans to Tintin, the popular European comic book figure, in The Adventures of Tintin. Moffat's British co-scribes include director-writers Edgar Wright (BBC America's Spaced) and Joe Cornish (Attack the Block). Jamie Bell, Daniel Craig, Andy Serkis and Simon Pegg star in the movie, which is due Dec. 21.
http://www.youtube.com/watch?v=op3w_ICK4us
• Peter Baynham, writer of BBC America's I'm Alan Partridge, is the co-writer of Arthur Christmas, an animated comedy in which the title character is Santa Claus's youngest son (voiced by James McAvoy). His co-writer and the film's director is Sarah Smith, whose previous credits include The Armando Iannucci Shows, which aired on Channel 4 in the UK. Arthur, made by Aardman Animations (Wallace and Gromit's home base), opens November 23.
Which of these writers has the best shot at Oscar?
Read More
Filed Under: