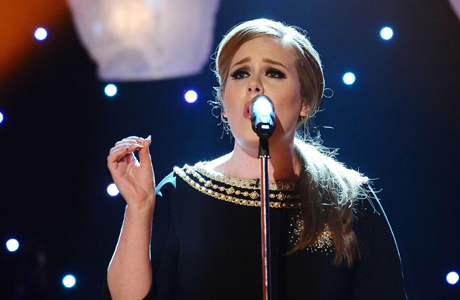 That Adele would cap her astonishing, record-annihilating 2011 with a slew of Grammy nominations was a foregone conclusion. She is Grammy voter catnip. (She already won Best New Artist a few years back.) But what is surprising is that her six-nomination haul did not lead this year's field. That cuddly, ever-lovable Mr. Kanye West managed to edge out the British songbird, scoring seven mentions.
However, half of Adele's nods came in the top, general-field categories: Record and Song of the Year for "Rolling in the Deep" and Album of the Year for her sophomore smash 21. Her album was also nominated for Best Pop Vocal Album; her anguished piano ballad "Someone Like You" is up for Best Pop Performance; and the elegant clip for "Rolling" is nominated in the Best Short Form Music Video category. No word on whether the convalescing Adele will be healthy enough to perform at the February 12 ceremony. Back in October, the singer canceled her remaining 2011 tour dates to undergo surgery to repair a vocal cord hemorrhage.
British "Americana" band Mumford and Sons, who aroused the Grammy audience with an almost-lewd folk performance at this past February's ceremony, were rewarded with both Record of the Year and Song of the Year nods for "The Cave." The two-year old tune is also up for Best Rock Song and Best Rock Performance.
Industry vets Radiohead also scored a few choice nods. The King of Limbs is up for Best Alternative Music Album, and its lead single, the danceable "Lotus Flower," is up for Best Rock Performance, Best Rock Song, and Best Short Form Music Video for its promo clip, featuring the, erm, energetic dance moves of frontman Thom Yorke.
Grammy fave Coldplay have previously won seven gongs, including Record of the Year back in 2004 for "Clocks." They won't vie for a top award this year, but they could add to their career totals with awards for Best Rock Performance and Best Rock Song for "Every Teardrop is a Waterfall" and Best Pop Duo/Group Performance for "Paradise."
Speaking of Best Pop Duo/Group Performance, that category features a bittersweet posthumous nomination for Amy Winehouse, whose collaboration with Tony Bennett on "Body and Soul" has to be seen as a sentimental favorite.
Other Brit nominees this year include Corinne Bailey Rae, Jeff Beck, and yes, Susan Boyle. The lack of Ellie Goulding and Jessie J for Best New Artist could be viewed as major snubs, especially considering the number of young British females the Academy has embraced in this category. (Florence and the Machine was nominated last year, and Amy Winehouse and Adele are previous winners.)
Here are the general field nominees:
1. Record Of The Year
"Rolling In The Deep" – Adele
"Holocene" – Bon Iver
"Grenade" – Bruno Mars
"The Cave" – Mumford & Sons
"Firework" – Katy Perry
2. Album Of The Year
21 – Adele
Wasting Light – Foo Fighters
Born This Way – Lady Gaga
Doo-Wops & Hooligans – Bruno Mars
Loud – Rihanna
3. Song Of The Year
"All Of The Lights" – Kanye West, Rihanna, Kid Cudi & Fergie
Jeff Bhasker, Malik Jones, Warren Trotter & Kanye West, songwriters
"The Cave" – Mumford & Sons
Ted Dwane, Ben Lovett, Marcus Mumford & Country Winston, songwriters
"Grenade" – Bruno Mars
Brody Brown, Claude Kelly, Philip Lawrence, Ari Levine, Bruno Mars & Andrew Wyatt, songwriters
"Holocene" – Bon Iver
Justin Vernon, songwriter
"Rolling In The Deep" – Adele
Adele Adkins & Paul Epworth, songwriters
4. Best New Artist
The Band Perry
Bon Iver
J. Cole
Nicki Minaj
Skrillex
What do you think about Adele's chances at sweeping the Big Three awards? Who else are you rooting for at this year's Grammys?
Read More
Filed Under: