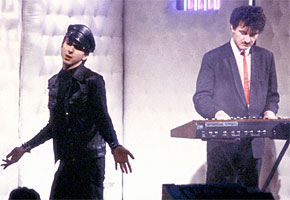 Once upon a time, the most efficient way to make pop music involved a guitar or two, a bass, a set of drums and some voices. You could get away with only employing three people without sacrificing the bottom end or the rhythm, but certainly no fewer.
Then the synthesizer arrived, and shortly after that, the sequencer. Suddenly all of the music could be taken care of by just one person. Temperamentally, it took a special kind of person to be good at weaving intricate synth-lines in and out of each other, especially in the early days of the technology. Someone with a lot of patience and a fairly calm, boffiny demeanor.
That's great for the music, but singing requires something a little more emotional and human, otherwise everyone would sound like Kraftwerk.
Enter the great fire and ice electropop duos. A singer who can shake the very heavens and a one-finger synthplayer who barely moves, because everything is already done for him. Here are five examples:
Soft Cell
If I was in a pretentious mood, I'd claim the reason the Brits were so good at the synthpop game is to do with the national cliche that we express our heaving emotions in quite a repressed way. In a fire and ice duo, the singer – in this case Marc Almond – speaks for the feelings while the quiet synthist speaks for the repression. And as we all know, the more you squeeze down on a feeling, the greater the force when it escapes. Soft Cell had a lot of feelings: betrayal, attraction, sleaziness, sadness, and a thuggish sense of romance. They also had a lot of emotive force.
Yazoo (or Yaz)
The ultimate odd couple. In 1981, Vince Clarke, after leading Depeche Mode to their initial run of pop success, discovers the joys of sequencing synth arrangements on his own, and leaves the band. Back at home in Essex he writes some new songs and decides to make some demos. He calls a friend of a friend – Alison 'Alf' Moyet – to come and sing on them, and they record a song called "Only You," that then goes on to become a massive, and well-deserved hit. So they go on to make some more, then split up. Vince then repeats the trick, first with Feargal Sharkey (as the Assembly) and then with Andy Bell and Erasure. Even now, 30 years on, it sounds like the kind of sound Adele would do well to consider having a crack at.
http://www.youtube.com/watch?v=q9DOmlfICGw
Eurythmics
A tough choice, this one. We already talked about Annie Lennox in the gender benders blog a couple of days ago, and the band went on to become far more than just an electropop duo. But any reading of the early '80s synth explosion that misses out 'Sweet Dreams' is fundamentally flawed, so they're in. Plus Dave Stewart has the all-important introverted demeanor, and for a while, shared a preposterous haircut with Vince Clark. He's also the only early-'80s pop star to continue to rock a beard, a treasonous crime in post-punk Britain.
http://www.youtube.com/watch?v=rJE_Sc1Wags
Blancmange
These two could almost be considered a commentary on the cliches of synthpop by the time they'd had their first hit with 'Living On The Ceiling.' For starters, Neil Arthur wasn't a soul singer like Marc or Alf or Annie, preferring to bellow like a bull stepping on Lego. Then there's Stephen Luscombe, who could easily have made a living as a Vince Clarke lookalike. Luckily they had their share of the tunes too, and brought exotic touches to a sound which, by 1984, was already becoming slightly tired.
Pet Shop Boys
As Neil Tennant has himself pointed out, the Pet Shop Boys were the last of the great fire and ice duos, and the first of the bands who made pop music out of dance music. So, yes, Neil would emote while Chris Lowe glowered from behind a keyboard, but they'd be trying to fuse torrid, literate pop ideas with club rhythms, which swapped the emotional dynamic around a bit. Where Yazoo expressed hot passion through cold oscillators, the Pet Shop Boys expressed hot passion through Neil's icy reserve, warmed up by hot synths and euphoric disco oomph. A less primal thrill, possibly, but thrilling nonetheless.
Who should also be on this list? Tell us here:
Read More
Filed Under: