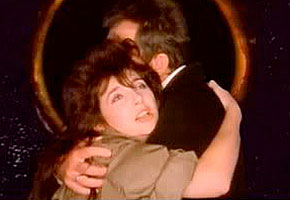 For someone who has the reputation of a musical hermit these days, Kate Bush has a lot of friends and has collaborated on a startling variety of different projects.
It's not just a question of her bussing in performers to garland her songs with strange and wonderful sounds either, she's been known to accept the odd offer here and there, when the call comes in.
Here are just five examples:
David Gilmour
Although perhaps not as high-profile a Kate collaborator as some of the people on this list, Pink Floyd's guitar player was crucial to her getting her record contract in the first place. Seeing a huge raw talent in her, he helped her record professional-sounding demos, in a proper studio, and sent them to his record label EMI with a note of recommendation. She was duly put on a retainer for a couple of years until she was old enough to get started. And she does return the favor from time to time, appearing on the song 'You' on Roy Harper's 1980 album "The Unknown Soldier," alongside David's Floydian guitar:
Peter Gabriel
Kate and Peter first appeared together on an amazing duet of the Roy Harper (him again) song "Another Day," for Kate's 1979 TV special (see video). She then contributed backing vocals to his 1980 songs "Games Without Frontiers" and "No Self Control" in 1980. But it's her co-lead on Peter's remarkable marriage guidance gospel song "Don't Give Up" that was their most notable public display of musical affection. And the video, in which the two were depicted hugging intensely against an apocalyptic background for the song's duration.
Rolf Harris
Rolf (or ROFL Harris, if you find him to be particularly amusing) is an Australian and British cultural institution. A fine painter, singer and stage comedian and a pied piper for children's TV, due to his habit of singing silly songs about men with three legs and playing the didgeridoo. Rolf's first appearance on a Kate Bush song was "The Dreaming," in which he provided most of the Australia, to sit behind Kate's aboriginal vocal. Since then he's worked with her on several occasions, not the least of which is "The Painter's Link." For British fans of a certain age, this is like Casey Kasem singing on a Bjork song. And yet decidedly unrubbish.
Rowan Atkinson
Speaking of amusing, Kate's 1986 duet with Rowan (clearly a good year to ask her for singing favours) took place at a charity concert for Comic Relief. Rowan plays a cheesy lounge singer, singing a love song to the wonderful lady in his life. For her part, well Kate's possibly not quite as keen. That sound you can just about hear in the background is her formidable reputation as a bookish, intense artiste-with-an-e being shot to pieces.
http://www.youtube.com/watch?v=fObUoXOVS2I
Stephen Fry
Oh sure, Kate's got Elton John on her new album, but he'll duet with ANYONE, including Pete Doherty. Stephen Fry, on the other hand, a man who does not so much have a tin ear for music as a wet flannel larynx, does not tend to do a lot of singing. His role on "50 Words For Snow" – the song – is to enunciate all 50 words, across different languages and idioms (some of which are clearly made up, I might add). And it's flipping lovely.
 Any notable Kate Bush collaborators that should be added to this list? Tell us here:
Read More
Filed Under: