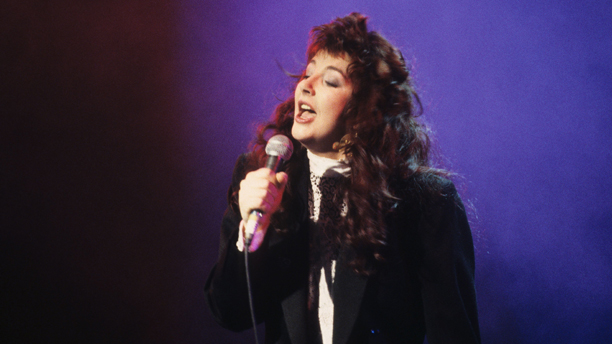 In London tonight (August 26), Kate Bush makes her return to the stage in her own right for the first time in 35 years. There have been one-offs here and there—for a long time fans were more likely to see her singing next to a comedian at a charity event than performing one of her own songs—but no full-length concerts, which for a performer with such a strong theatrical presence is remarkable.
The prolonged absence has done nothing but fuel interest from fans and media alike. Will she be acting out her songs again like she did all those years ago? Will there be dancers and costumes and all that stuff, or a stripped back account of her best songs with a pin-sharp backing band, as befits a performer of her stature? And is there any chance it could be both? Can she make those immaculate studio confections work live and is that voice still as magnetic and transformative as always? Will she play "Wuthering Heights"?
Well we can't know. Not yet anyway. But while the pop world holds its breath and waits, here's an updated version of the countdown of her albums we put up a couple of years ago, which should give ample evidence for anyone wondering what all the fuss is about.
Note: There's no such thing as a bad Kate Bush album, such are the benefits of being one of a kind. We've left off "Director's Cut," her live album from 1979, and the compilations "This Woman's Work" and "The Whole Story", to avoid repetition. By all means get those as well, you won't be unhappy.
Let the countdown commence!
9. Lionheart (1978)
It's fairly commonly agreed, not least by Kate herself, that her second album suffers a little from being created under the shadow of the galloping success of her first. Both released in 1978, The Kick Inside took the full benefit of  a) the shock of the new and b) a cherry pick of the best of the songs she'd been writing since her early teens. By comparison, "Lionheart" felt like more of the same. This may not necessarily be a bad thing, and in any case, any album that can boast songs as assured as "Wow" and "In Search of Peter Pan" can hardly considered a failure.
8. The Red Shoes (1993)
Fast forward to 1993 and we once again find an artist who is struggling to operate at full efficiency because of the heavy shadow of her astonishing work so far. It took Kate 12 years to create her first seven studio albums, of which this is the last, and a further 12 years to make her eighth. Fans claim that it's possible to hear a certain weariness here and there, songs which haven't quite taken off, production ideas which haven't aged well, but again, there's plenty to enjoy by anyone else's standards, and this was, after all, her big U.S. hit album. The title track alone is among the most vibrant and lively songs of her career, skipping along on a jaunty mandolin and garlanded with swirly flutes.
7. Never For Ever (1980)
Now the wings are being allowed to stretch a bit. Having fought for a bit of time to do her work, Kate stormed into 1980 off the back of a successful and very theatrical tour, for which she had to have the first headset microphone specially built. Having taken over the production duties herself, and become smitten with the possibilities of the Fairlight synthesizer, she continued to build on the promise of those early songs with startling hits, like the infidelity fable "Babooshka" and "Army Dreamers," which sampled the cocking mechanism from a wartime rifle and used it as a rhythm.
6. The Dreaming (1982)
This is the connoisseur's favorite. In 1982, the pop world wasn't really receptive to Kate's latest singles: the pounding, wailing "Sat In Your Lap," or the mockney Madness-aping "There Goes A Tenner," nor did they wish to hear her pretend to be Australian on the title track, so the album failed to sell in the same kind of quantities as its three predecessors. Of course, nothing breeds ardor like rejection, and some people now claim this as Kate's lost masterpiece. Other fans are less sure, but one thing is certain, this is the album that did for Kate Bush what "Swordfishtrombones" did for Tom Waits: a revolution in both sound and working practice that ensured she was free to write any kind of song about anything.
5. 50 Words for Snow (2011)
Her most recent album was a ruminative, immersive record: unhampered by any sense of urgency or a need to appeal to the modern pop consumer. It's just seven wintry songs spread over sixty-five minutes with a couple of celebrity cameos. Elton John duets on "Snowed In At Wheeler Street," and Stephen Fry plays a similar Master of Ceremonies role on the title track as his hero Vivian Stanshall did for Mike Oldfield's "Tubular Bells:' another album which does strange things to the passing of time.
4. The Sensual World (1989)
Well, almost anything. When Kate first drafted the song "The Sensual World" in 1989, the bulk of the lyrics came from James Joyce's Ulysses. Unfortunately, the Joyce estate refused her permission to use his words in this way, and so she had to create her own version of Molly Bloom's aroused internal monologue (she was able to revert to the original lyric for her reworked version on "Director's Cut"). Not that anyone minded either way. They were far too distracted by the fully stocked toyshop of delights on offer. The Trio Bulgarka! "This Woman's Work"! That song about dancing with Hitler! Giddy thrills all.
3. Aerial (2005)
That eighth album, then. The one that took 12 years. In a way it's hard to tell whether public taste had grown towards Kate's way of doing things by 2004, or she had simply been able to spend the time away from the spotlight on perfecting two heaving CDfuls of songs without feeling the pressure to compromise any of her ideas. Whichever it was, "Aerial" is a peak in a career of peaks, with a mountainous visual depiction of a sound file (more peaks) on the cover. It was reassuring to note the wayward instinct still ran strong in her work, not least in the song "π": the only pop song to attempt a musical rendition of the mathematical construct π, to 150 decimal places. Apparently she got some of it wrong, the rebel.
2. The Kick Inside (1978)
You have to feel sorry for the pop fans in 1978. The aftershocks of punk and new wave were still rolling across the cultural landscape, disco was in its pomp, Jeff Wayne had just unleashed his musical version of HG Wells' "War Of The Worlds", and then suddenly there's this girl singing a song about an old Emily Bronte novel in a strange, witchy voice. Not that there's ever a right time for a song like "Wuthering Heights." Still only 19, Kate then released the bewilderingly mature "The Man With The Child In His Eyes," and to make matters worse, revealed that she had written it six years previously. SIX YEARS THOUGH!
1. Hounds of Love (1985)
A lot of musicians like to build their own studios, to try and ease some of the pressure from their record label when having a good hard think about their next magnum opus ("a death metal ukulele opera! In 3D!"). Few come back with their very best work to date, commercially and artistically. But in 1985 Kate did just that, with the release of the career-reviving hit single "Running Up That Hill," which effectively erased any lingering doubt that that kooky girl with the song about the ghost was a fading prodigy. Having written a set of similarly punchy, arresting songs, she honed them down to a strong rhythmic core, emphasizing the drums and then layering on the dreamsynths (and easing back on the comedy accents). This is the Kate Bush album to get first, then you're free to have a good wallow in everything else.
And here's a handy Spotify playlist, just to see what we're on about.
See more:
Kate Bush Week: Five Great Kate Collaborators
Kate Bush WeekKate Bush Week: Her Five Best Videos
Kate Bush Week V: A Life In Photos
Kate Bush Week: Five Great British Literary Songs
Read More
Filed Under: