Although the glam-rock campery of the early '70s had already started asking serious questions about dress codes and gender roles of men and women in showbiz, it was usually fairly easy to spot which was which, with the possible exception of David Bowie. Resplendent in their long hair and makeup the Sweet may have been, but no one had to look twice and wonder what kind of astonishing creatures they may be underneath.
Fast forward 10 years, and Bowie's spiritual heirs were taking peacock courage from the punk explosion and dressing to confuse the world. And they were so successful at it that by the time Marilyn Manson had caught on (15 years too late), with the cover of his album  "Mechanical Animals" it seemed almost quaint.
Here are five of the best (and Marilyn):
Boy George
Might as well start at the top, right? There were people who dressed androgynously before, and there were people who dressed androgynously afterwards, but Boy George was the sole reason 1983 was the year of the gender-bender in pop. His first appearance on Top of the Pops, singing the provocatively-titled (given the circumstances) "Do You Really Want To Hurt Me?" with Culture Club, caused an immediate wave of heated comment as to what manner of creature he was. The strange thing about George's classic look, the big hat, the dreadlocks etc, was that it took the sex out of playing with gender roles. Whether he was a boy or a girl, he looked more like a well-loved ragdoll than a scary deviant who would destroy your children. He played up to this too, claiming to prefer a nice cup of tea to sex and lancing the tabloid hysteria boil with poise, charm and humour. Effectively, he drew a warm, human face on alternate sexualities, for which he deserves thanks from both sides of an often hard-to-cross ravine.
http://www.youtube.com/watch?v=6ZaDAMoRQkg
Annie Lennox
If George was the Queen/King, then Annie was the King/Queen. Her broad, slightly sinister smile, ginger crop and business suit played so strongly against the stereotype of the female lead singer that it was just as tricky to find an immediate precedent for her appearance. She certainly wasn't a tomboy. Her appearance next to the bearded, quiet Dave Stewart made the pair look more like cat and mouse than man and woman. And to add astonishment to bewilderment, they then made the "Who's That Girl" video, in which Annie (a woman who dresses like a man) dresses as a woman, and Dave is squired by Marilyn (a man, see below). It seems impossibly silly that this should have been a big deal, but it really was. Look:
David Sylvian (Japan)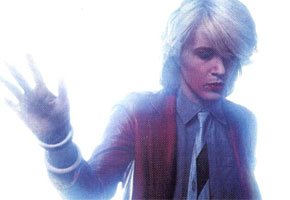 Once considered to be the most beautiful man in the world (note the word use there, not handsome, beautiful), David's tenure as a chart-bothering pop force was all but finished by the time Boy George sashayed in front of the cameras, but there's no doubt that his fine cheekbones, Lady Diana haircut and strong need to dive into the makeup box face first did a lot to prepare popwatchers that a change was afoot. Japan were a curious band, in that they all looked a little androgynous on their own, but manly on a positively Herculean scale next to David's shimmering and girly visage.
Pete Burns (Dead or Alive)
One of the holy trinity of male gender-benders, alongside George and Marilyn, and by far the most outspoken. The curious thing about Pete is that he may have had the hair and the clothes and the makeup and all that, but at his peak, he never looked particularly girly. Look at the video to "You Spin Me Round (Like A Record)" and he simply appears to be an '80s pop star in an eyepatch. Whether that's a sign of how quickly Boy George's appearance had been assimilated into the mainstream or Pete's own manly features is neither here nor there. He looks far more androgynous now, after many battles with the plastic surgeons knife, than he ever did when he was supposed to be undermining the morals of the nation's youth.
http://www.youtube.com/watch?v=ZUatnbaNfEo
Marilyn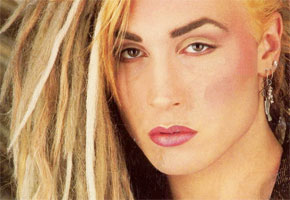 The joker in the pack. Marilyn managed an impressive twin feat, of being the most convincingly girly of the three big gender-bending pop stars, but the most unconvincing actual pop star. Compared to George, who had the voice and the songs, and Pete, who had The Hit, all Marilyn had was the attention of the press, a friendship with George, and a couple of underwhelming songs that showcased his passive meow in an unattractive way. Marilyn was also the first of the three to abandon the cross-dressing, appearing in Smash Hits magazine wearing jeans and work boots. Which he could easily have pulled off, had he been blessed with the charisma and/or talent to match his style. Being a pop star isn't easy, y'know…
Who should have made the list? Tell us here:
Read More
Filed Under: